MSc International Logistics and Port Management
Home ›
MSc ›
MSc International Logistics and Port Management
Read more about this program on the institution's website
Program Description
Accredited by the French Conference des Grandes Ecoles.
The MSc International Logistics and Port Management trains expert port professionals, be it in transport, logistics, or operations terms.
The MSc in International Logistics and Port Management teaches practical skills sought for by businesses specialising in international logistics, international transport and port management. The involvement of regional experts in teaching helps students develop as professionals and enter the job market.

Mame Gningue
Academic Director
Assistant Professor in Logistics and Supply Chain Management
Learning objectives
Designing and implementing optimum solutions in shipping.
Acquiring expertise in the organization, management, and satisfaction of national and international operators' needs.
Knowing and mastering the tools required for one's actions.
Strong points
Lectures given entirely in English, while residing in France in an international context.
Lectures from experts with international reputations, from a wide range of countries and cultures.
A professionalizing program: In-company Consulting Projects and Challenges, Business Dating, Professional Colloquia.
A campus in the heart of an international logistics hub (Le Havre, 1st French Port for External Trade).
The Institut Portuaire d'Enseignement et de Recherche: IPER offers Shipping and Port expertise.
A cohort of a manageable size and close individual monitoring.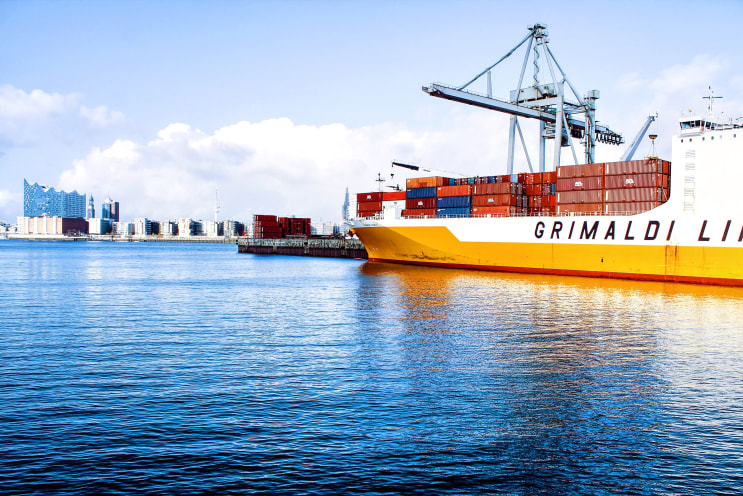 Program
The program of the MSc International Logistics and Port Management provides a comprehensive set of knowledge to succeed in this dynamic industry.
Semester 1

Basics of Logistics and Supply Chain
Information Technologies for Logistics (SAP)
Sustainable Logistics
Procurement and Purchasing
Operations Management
Integrating the Supply Chain
Quality Management
Pricing and Cost Calculation
Auditing and Controlling
Revenue Management
Research Methodology
Professional Techniques
Career Path
Flowcharting
Business Case
Digital Project Management

Semester 2

Basics of Transportation and International Trade
Customs Procedures
Multimodal Transport
Risk and Crisis Management in 4.0 Industry
Maritime Transport
Shipping Business Strategy
Sustainable Warehouse and Distribution Management
SAP Project
Port Community Management
Port Logistics
Business Case
Dissertation
Career Preparation
Internship
Admission
Selection based on the application file and individual motivation interview.
Please apply via the online application procedure.
Eligibility for application
The program is open to:
Students who hold a four-year bachelor's degree or equivalent.
No English language test score is required for students holding a degree from an English-speaking university. For other applicants, language requirements are TOEIC 790, IELTS 6, TOEFL 83.
Due to the Covid-19 situation and the closure of some Exams Centres, we do offer the possibility for the candidate to take a Language Test online, don't hesitate to contact us for more information: applyto@em-normandie.fr.
Admission procedure
Application files submitted are reviewed with special attention paid to the seriousness of the file and the quality of the academic and/or professional profile.
Shortlisted candidates are invited for an interview via Skype with a Head of Academic Programme. This interview helps clarify the applicants' profile, their projects, their objectives. The final admission decision (offered or denied admission) is communicated a few days after this interview.
Admitted candidates are notified formally and invited to make a down payment, later on, deducted from the tuition fees. This initial payment confirms the candidate's seat in the program and an unconditional letter of admission is then issued.
In order for our students to benefit from optimal learning conditions, places in our programs are limited. The number of remaining places is reviewed after each admission session. Whenever a cohort is full, admissions for the program are closed.
The application deadline for the 2020-2021 admission session is 15 May 2020.
In addition to the EM Normandy application form, international candidates must approach their local Campus France office to facilitate the process of obtaining their visa. Once the down payment has been received, the School will help International students with their visa procedures and search for accommodation.
Career
General information about the employment market
The logistics industry is dynamic and operating smoothly. Currently responsible for over 2 million jobs in France, the market is set to expand by around 1.5% per year.
The constant growth of e-commerce supported by new technologies, related consumer habits, and the impact of big data are creating change and causing companies, particularly in industry, to rethink how they are organized and how their systems operate.
New skills such as interdisciplinary expertise are expected, with more capacity to progress in an international and multicultural environment where mobility and the ability to bring together virtual teams are the keys to success.
Career Prospects
Prospects are numerous in industrial organizations, logistics and service firms, as well as humanitarian agencies:
Head of Flow/IS Management
Head of Supplies
Head of Logistics Organisation
Logistics Analyst
Head of Logistics Project
Logistics Consultant
Head of Logistics
Head of Procurement
Head of Distribution
Tuition Fees for 2020-2021
MSc International Logistics and Port Management: €12500
€50 charged to candidates in order to study their profile
As from September 2018, you will pay a €91 contribution to CEVC (Contribution Vie Etudiante et de Campus) by connecting to https://cvec.etudiant.gouv.fr/
€575 membership fee for Association Alumni EM Normandie, which will give you access to all their services and a life membership (not compulsory).
Fundings
Various options are offered to students to fund their studies:
Grants: Campus France
Paid student jobs offered by the School's Junior Enterprise and Jobs Services
Last updated May 2020
About the School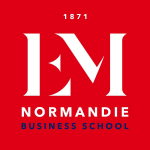 Over the last 25 years, the Chambers of Commerce of Caen and Le Havre have combined their efforts to set up a joint structure in Higher Education for the benefit of their respective towns and regions. ... Read More
Over the last 25 years, the Chambers of Commerce of Caen and Le Havre have combined their efforts to set up a joint structure in Higher Education for the benefit of their respective towns and regions. Today, this effort has given birth to the Ecole de Management de Normandie, a unified and strengthened business school ready to meet both the national and international needs of firms.
Read less