Program Description
The MSc in Finance offers both substantial theoretical knowledge and global practical applications that will give you the ability to work anywhere in the world. Learn from academic and professional experts, increase your earnings potential and open doors to a wide range of career opportunities.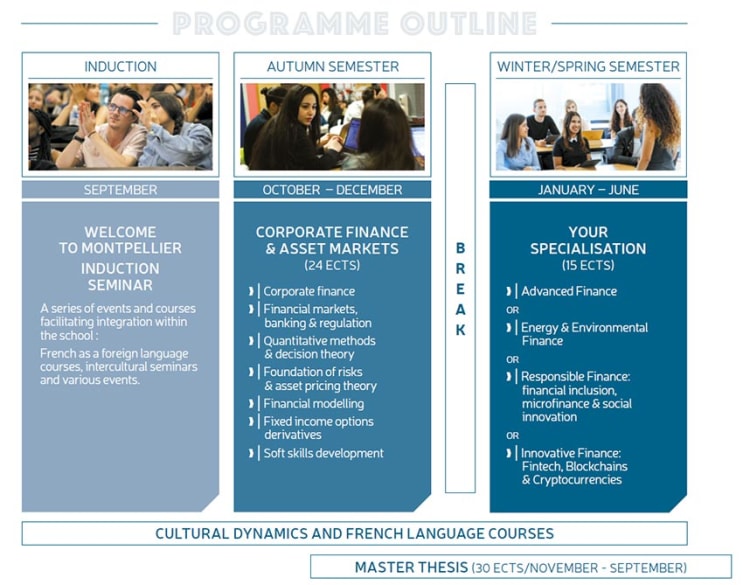 Design Your Own Professional Pathway By Choosing Your Preferred Field Of Interest Between 4 Advanced Specialisations.
Advanced Finance
This specialization is an advanced program built to sharpen your expertise in finance and business analytics. You will learn tools and know-how to assess companies and investments, and to evaluate financial strategies and corporate finance decisions.
By choosing this specialization you will:
Engage in financial analysis in areas such as forecasting, budgeting, cost reduction techniques, and operational performance.
Analyze and prepare financial statements.
Perform risk hedging processes and portfolio optimization techniques.
Specialty courses
Topics on valuation, M&A, LBO
Introduction to big data & business analytics
Finance simulation
International finance
Career opportunities
Financial analyst
Commercial banking
Financial planning
Portfolio manager
Private equity fund manager
Credit manager
Treasurer
Cash management consultant
Investment manager
Private equity analyst
Risk management analyst
Energy & Environmental Finance
This specialization helps you to develop a specific focus on the practical aspects of energy-environmental financial markets, encouraging you to develop creative, entrepreneurial and analytical approaches to frame issues in the energy-environment sphere.
By choosing this specialization you will:
Gain an in-depth understanding of the economic and financial processes and procedures associated with the energy and environmental markets sector.
Develop your professional and personal knowledge necessary for a career in the energy, financial energy, renewable energy, and broader environmental markets.
Specialty courses
Energy economics
Energy and environmental issues: global sustainability, energy transition(s)& emerging markets,
Ethics, responsible development & regulation
Commodity markets & investment strategies
Career opportunities
Energy investment analyst, financial analysts, energy traders
Banking industry (energy and power departments, etc.)
Careers in renewable energies
Energy specialist/blogger/expert
Energy consultants
Business developer
Careers in research and/or academia (including Ph.D., DBAs opportunities, etc.)
Responsible Finance: financial inclusion, microfinance & social innovation
This specialization aspires to build a new generation of managers, willing to develop innovative solutions to promote responsible finance and financial inclusion worldwide.
By choosing this specialization you will:
Familiarise with social business models in both developed and developing countries.
Investigate alternative banking solutions aiming at financial inclusion and poverty alleviation.
Be aware of societal issues and willing to generate a positive impact, regardless of their activity.
Address the complexities of responsible investment and financial decisions in organizations.
Specialty courses
Microfinance contracts & products
Green banking
Social & cooperative banking, responsible investing of microfinance institutions
Fintech solutions & digital finance
Career opportunities
Social & financial rating companies
International and national NGOs such as Positive planet, ADA, BRS, etc.
Microfinance institutions
Social investment funds
Social finance departments of mainstream banks, social enterprises, European institutions
Innovative Finance: Fintech, Blockchains & Cryptocurrencies
This specialization provides you with relevant and non-overly technical aspects of computer science, economics, banking, finance, and law. It benefits from applied theoretical and practical contributions, facilitated by both seasoned professionals and internationally recognized academics.
By choosing this specialization you will:
Develop general finance skills.
Explore the different ways to transpose this knowledge and expertise to the financial and banking industry.
Gain relevant specialisation in Innovative finance.
Specialty courses
Entrepreneurial finance
Introduction to cryptocurrencies: bitcoins and ethereum
Ethics, data protection, and regulation
Banking in the era of fintech
Disruptive models fintech & assurtech
Blockchain technologies, cryptocurrencies and initial coin offering
Career opportunities
Investment analyst
Banking industry
Careers in Bitcoins and Ethereum
Digital currencies expert
Financial innovations consultants
Business
Admission
Duration
18 Months, including a 4-6 month internship.
Tuition fees
13,900€ for the entire program
Extended payment options available
Individual scholarships may apply
(up to 2000€ scholarship according to admission results)
Application fee: 90€
How to apply?
Complete the online application.
You will be required to upload the following documents:

CV
Photo (jpeg)
Copies of degrees and academic transcripts of the last three years
Copy of your identification (e.g.passport)
Online registration: From October 7th, 2019 to July 10th, 2020
Entry requirements
The MSc is open to students with four years of study after high school and does not require prior general or technical knowledge related to the subjects.
An undergraduate degree (Bachelor's degree or equivalent)
English test:

Montpellier Business School English test (free)
or TOEFL (at least 80/120)
or IELTS (at least 6.0/9)
or TOEIC (at least 785/990)
English native speaker candidates only will be exempted from the test.

Reasoning test: Only for students with three years of study after high school.
Selected candidates will be scheduled for an admission interview (via video).
Last updated Dec 2019
About the School
Montpellier Business School, a Grande Ecole, is heir to a long tradition of teaching based on the needs of businesses and markets. Founded in 1897 by the Chamber of Commerce and Industry of Montpellie ... Read More
Montpellier Business School, a Grande Ecole, is heir to a long tradition of teaching based on the needs of businesses and markets. Founded in 1897 by the Chamber of Commerce and Industry of Montpellier, the school has succeeded in continually refining its specialized teaching in management science to adapt its courses to constant changes in local and global economic environments.
Read less