Program Description
Master in Particle Physics

You have a degree in physics or physical chemistry, our M1 allows you to deepen your knowledge of General Physics (electromagnetism, Fluid Mechanics, statistical physics, quantum mechanics, nuclear physics, instrumentation, etc.). You can choose in the second half a hundred hours of introduction to research in particle physics, and have the ability to make an introductory course in search of two and a half months in a laboratory. Obviously useful for those who wish to use in research academic, these teachings are an opening for other working methods of research and deepening discipline always transferable to other areas.

Already have an M1 physics or physical chemistry, M2 will immerse you in our research in particle physics with courses that address both the theoretical concepts related to fundamental interactions (principles of symmetry, quantum field theory, gauge invariance , etc.) that instrumental methods which allow us to probe the nature: principles of detections implementing acquisition systems and data processing. Optional courses can also be an opening in the field of cosmology and astroparticle, either to radiation-matter interactions and their applications in the field of radiation. The second year ends with a research internship of five months in the laboratory.

All specialty courses are taught by faculty members and researchers from the Laboratory of Particle Physics (University Blaise Pascal - CNRS/IN2P3) participating in international research programs such as the CERN (European Laboratory for Particle Physics).

A Research Master course is a prerequisite for doctoral studies follow. But it is also an end in itself. Mastery of a scientific discipline, the handling of advanced concepts or ownership issues and current techniques of field research are all skills to your employability and your assets in homebuilding. Physics leads to everything!

Application

The application form must be accompanied:
a cover letter
a Curriculum Vitae
a transcript of the third license year marked «Admis» or a provisional certificate of achievement for this year
transcripts of the first and second years of License
a small envelope addressed to the candidate's address
Last updated Jan 2018
About the School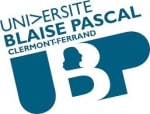 Blaise Pascal UniversityA human-scale university at the forefront of teaching and research in a city on the move.Adjacent to the largest natural park in France, Clermont-Ferrand is the capital of the ... Read More
Blaise Pascal UniversityA human-scale university at the forefront of teaching and research in a city on the move.Adjacent to the largest natural park in France, Clermont-Ferrand is the capital of the Auvergne Region. Major companies (Michelin, Limagrain, Volvic, etc.) contribute to the economic growth of the city which counts 35,000 students.The world capital of short films and city of reference in terms of modern music (the Cooperative de May music venue), Clermont-Ferrand offers a wide variety of cultural events.With such an environment Blaise Pascal university provides an ideal context to the students wishing to study in one of our major training and research areas: sciences and technologies; literature, languages and arts; human and social sciences; physical and sports activities sciences and techniques.With 1150 Lecturing and Research Staff, the University is well-known for the quality of its teaching and research. It has four Doctoral Schools and thirty-one laboratories and research teams, sixteen of which are associated with the C.N.R.S. (National Centre for Scientific Research) and two with the I.N.R.A. (National Institute for Research in Agronomy).The university offers its 14,000 students courses (B.A./B.Sc., M.A./M.Sc. to PhD level) in its extensively multidisciplinary fields of the Arts, Languages and the Humanities, Exact and Natural Sciences and Technology, Sports Science and Engineering.The University also has a long tradition of welcoming foreign students (2160) who come particularly to study in the context of European programmes or under the terms of international co-operation agreements with 270 institutions situated all over the world.
Read less