Master of Science in Computer Science (MSc) - Software Engineering
Home ›
MSc ›
Master of Science in Computer Science (MSc) - Software Engineering
Program Description
Overview
EPITA's Master of Science in Computer Science - Software Engineering program spans 18 months and is taught 100% in English in Paris. Accredited by the CGD (Conférence des Grandes Ecoles), the program consists of 3 semesters' on-campus classes and 1 semester of internship. To obtain their degree, students must acquire 120 ECTS (European Credits Transfer Systems) and a B1 level of French.
Program objectives
The aim of the Master of Science in Software Engineering program is to nurture "Digital Leaders" who are able to innovate, propose new content, create new functionalities and services, through open source technologies, or those of the big software publishers.
Graduates of this program will be capable to integrate into all economic sectors as an architect of new services and innovative site management. They will be equipped with technological rigor coupled with the capability of listening to others thus managing the human factors in new use situations.
Program structure

Internship
The last semester is a compulsory 6-month internship, which is the capstone of the program. Students will acquire technical business experience by working in a real environment, which prepares themselves for the job market. They are paid between €1,200 and €1,500 per month during their internships.
Careers
Startup Creation
Developer
Software Engineer
Technical Manager
Database Administrator
The annual average gross salary of the program's graduates is €40,000.
Testimony
Stefano ACOSTA - Ecuador - Class of 2018
"To have a new international experience, deepen my knowledge about software engineering, and learn a new language in the place it is spoken; is what drove me to go for specialization at Epita.
Being new to the language, the program got me to a professional level in French and gave me the necessary IT tooling to face any major project, getting the complete image of an industrialized software product.
Having teachers that face real day-to-day problems at their roles makes the program fit modern needs, I felt that it was more connected to the real world than a classic theory-only program."
Admissions
This program is open to candidates holding a 4-year Bachelor's degree (or higher) or a 3-year Bachelor's degree with significant work experience in Computer Science, Computer Engineering, Electrical Engineering, or related fields. Candidates must also have strong analytical and problem-solving capabilities.
The admission process is fully automated. Candidates should submit their application and upload the following documents translated into English or French in digital format to our online application platform.
Résumé
Passport
Official university transcripts
Certified copy of the Bachelor's degree certificate
Certified copy of the high school certificate
2 letters of recommendation
TOEFL 80, TOEIC 800, IELTS 6.0
Statement of purpose
The application will undergo three phases:
Validation of your candidacy
Online interview
Admission results
Candidates will be informed of the status of their application by email during each phase of the process.
Last updated Sep 2020
About the School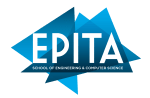 Born in 1984, EPITA (from the French Ecole pour l'Informatique et les Techniques Avancées : School of Computer Science & Advanced Techniques) has been steadily gaining a reputation of excellence a ... Read More
Born in 1984, EPITA (from the French Ecole pour l'Informatique et les Techniques Avancées : School of Computer Science & Advanced Techniques) has been steadily gaining a reputation of excellence among multinational companies, which often recruit our students before the end of their studies. At EPITA, computing and information technologies are considered fundamental subjects and are always placed in the context of students' future managerial role and within the perspective of their position of responsibility. Scientific studies complement this training to broaden and complete the scientific culture vital to the future engineer.
Read less