About us
Cambridge school of visual & performing arts (csvpa) is a dedicated arts and performance school in the centre of cambridge. We offer diploma, foundation, undergraduate and postgraduate courses across art & design, fashion, music and performing arts.
Our class sizes are small, our school is diverse and our staff have excellent experience in industry. With an average class size of 15 students to one lecturer, we give one-on-one support as well as personalised tuition, so you can become the artist you want to be. All of our students are part of the CSVPA family, a vibrant, multicultural community of highly creative people who share common dreams and ambitions. At CSVPA, you will make friends across courses and years, sharing ideas and experiences that elevate your work and inspires you to explore your own creativity
Your career
The creative arts industry in the UK is booming, contributing £286 billion to the wider UK economy.
With employment in the arts industries growing four times faster than other sectors, studying a creative arts course is a gateway for some of the most exciting, innovative and well-paid careers
Your creative space
As a student at csvpa you will have your own space to design, create, rehearse or practice . All of our studios are designed to look, feel and operate like those you would work in during your professional career. We make sure you are adept at using all the latest equipment, processes and programmes that the creative industries use.
Students have access to our studio spaces 7 days a week and our lecturers provide personalised tuition. What's more, as artists you will need access to lots of essential materials and equipment to create successful portfolios. Unlike other universities and colleges, at CSVPA we provide all your printing, your calico and pattern paper free of charge – so you can experiment, make mistakes and learn without worrying about having to constantly buy more materials.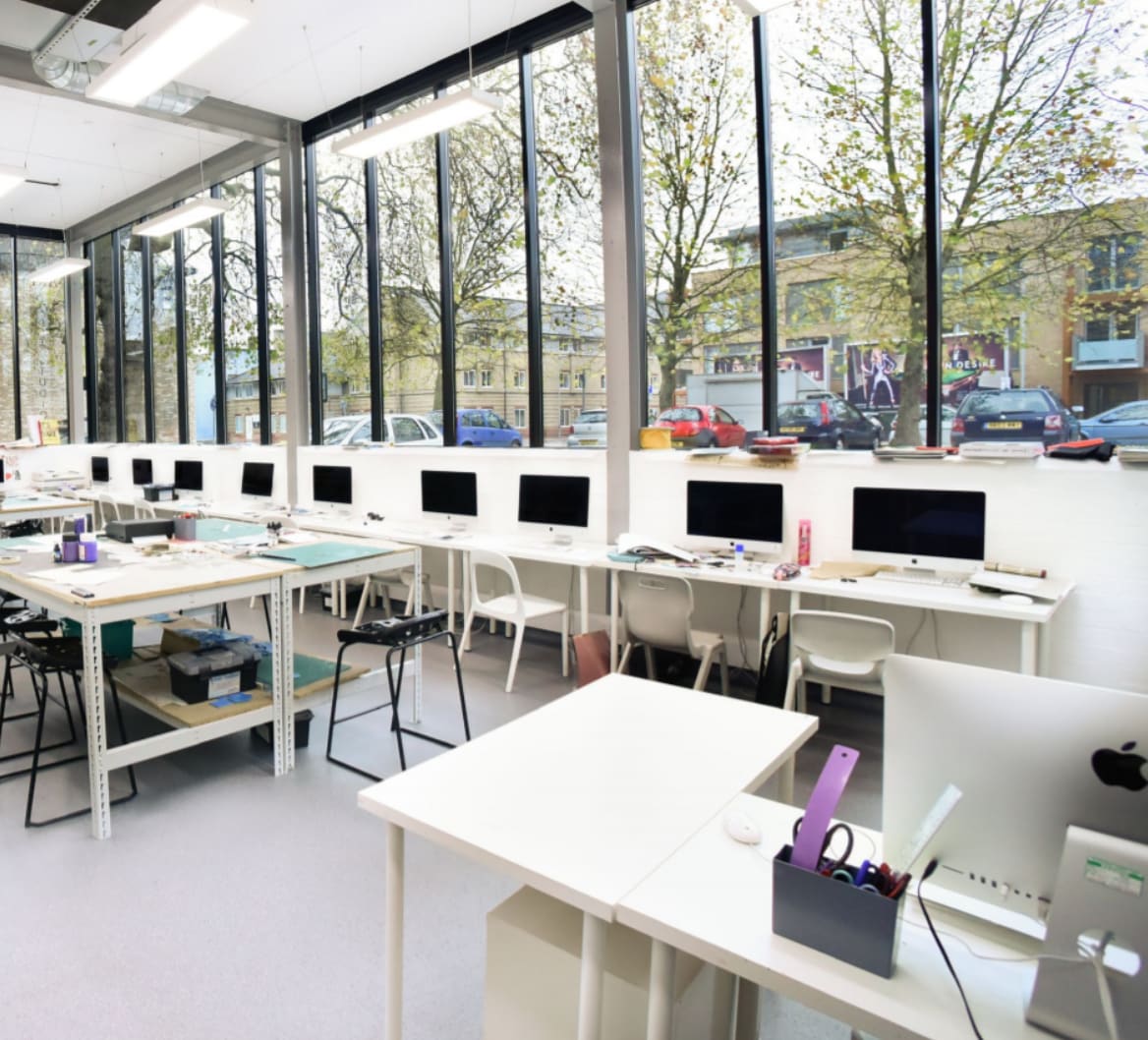 We Provide
5 days a week contact time
small class sizes, on average no more than 15 students to 1 teacher
one-on-one support in class
personalised portfolio assistance and advice
weekly one-to-one music and drama lessons
highly personalised audition preparation
your own dedicated workspace
your own iMac for BA Graphics & Illustration
your own mannequin if you are a fashion student
lecturers based in your studio Monday to Friday, giving you high quality one-on-one time
studio access 7 days a week
guaranteed participation in an end-of-year show
dedicated university officer, to help with your university applications and careers advice
opportunities to broaden your experiences by visiting exhibitions and shows
outstanding teachers who are working artists and performers, bringing industry links and real insight to the world of work
a dynamic and global community bringing opportunities, international contacts and friendships
Living in Cambridge
Cambridge is possibly the best place in the UK to be a student, and csvpa is perfectly located right in the heart of the city. A beautiful, multicultural city, Cambridge is rich with English history and lots to do. There is a popular music scene with multiple venues to choose from across different genres. Arts and culture can also be enjoyed with world famous museums that show some of the rarest collections, sculptures, art and ancient antiques dating back to even the pre-historic era. There are many art galleries that are filled with contemporary and renaissance artworks and plenty of theatres which host performances, from Broadway shows to amateur theatre groups.
Cambridge is one of the safest places to live in Britain. 4 There is an abundance of shopping centres, restaurants, cafes and cinemas, and when you want to explore the rest of the UK or travel back home, you can easily jump on a train and be London in just under an hour.