Master in
SMA Hydrodynamics-Energetics and Propulsion - Energetics and propulsion
Centrale Nantes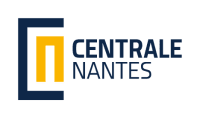 Introduction
Energetics and propulsion (M-ENG EP)
This Master develops skills for designing and optimizing innovative propulsion plants with a focus on thermofluid processes and energy conversion for research and industry.
Internal Combustion Engine and turbojet performance and efficiency are influenced by various processes including gas
flow, compression and expansion through turbomachines or reciprocating piston, fuel injection and combustion, energy
conversion and heat transfer. Therefore the curriculum offered in this program will provide an emphasis on all these
processes and how they interact.
The program of study lasts two academic years - denoted by M1 and M2. Energetics and Propulsion is one of four specialisms available within the Mechanical Engineering stream.
The language of instruction is English across the two years.

Curriculum
Curriculum
Course Content - M1
30 ECTS Credits per semester.
Language of instruction: English

| | | | |
| --- | --- | --- | --- |
| M1 - Autumn Semester Courses | ECTS | M1 - Spring Semester Courses | ECTS |
| Continuum Mechanics | 5 | Fluid Mechanics 2 | 5 |
| Fluid Mechanics | 5 | Mechanical Design | 4 |
| Algorithms for Engineering Modelling | 4 | Energetics | 5 |
| Numerical Methods | 4 | Propulsion | 5 |
| Vibrations | 4 | Hydrodynamics | 5 |
| Business Environment | 4 | Conferences and Initiation to Research | 2 |
| Modern Languages | 4 | Modern Languages | 4 |
Course Content - M2
30 ECTS Credits per semester.
Language of instruction: English
M2 - Autumn Semester Courses
ECTS
M2 - Spring Semester

ECTS

Combustion
5
Master Thesis or Industrial Internship
30
Gas dynamics and heat transfer
5
Turbomachinery
5
Internal combustion engines
5
Hybrid Powertrain and Energy Management
3
Practical and simulation
3
Modern Languages
4
Conferences
-
NB Course content may be subject to minor changes
Internships
Examples of previous internships in the industry:
Design of coolant, oil and intake air temperature control to simulate variations during one track lap for a formula one engine
Experimental investigation regarding the influence of high temperature on the aqueous urea dosing unit for Daimler Trucks
Demonstrator development for aircraft jet engine applications
Examples of previous internships in research labs:
Experimental study of wall wetting phenomenon on a port injection SI engine
Experimental study and phenomenological modeling of wall heat transfer in an IC engine
Experimental study of RCCI combustion with endoscopic investigations
Program Outcome
Skills Developed
Design engines and components.
Build and use simulation models of engines and powertrains.
Develop control strategies and calibrate ECU engines.
In addition to the above specialism-specific skills, students will also develop more general skills:
Identify models, perform simulation and analyze results.
Communicate comprehensive results in a meaningful way.
Undertake bibliographic surveys of international research and professional literature.
Manage or be part of a project.
Career Opportunities
Prospects for employment or further study
Sectors: Automotive, Industrial engines, Aeronautics, Transportation, Power plants, Energy.
Fields: Engine design & calibration, Modelling, and Simulation, Research and Innovation, Thermofluid Engineering.
Positions: Thermofluid Engineer, Design Engineer, Calibration Engineer, Modelling Engineer, Research Engineer (post Ph.D.).