Master in
MSc in Digital Transformation Management & Leadership
ESCP Business School - London Campus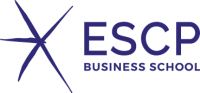 Introduction
Become a future digital leader ready to tackle any business challenges related to digital transformation & frontier technologies
Experience 9-12 months of practical curriculum at our London and Paris campuses, followed by 9 months in professional development.
Taught in fully English with optional French language classes
Get a deep understanding of all major frontier technologies, as well as the business processes linked to them: automation, analytics, project management and more.
Apply your skills as you learn with an integrated 12-week Company Consultancy Project for a real client, and multiple practical workshops and seminars with industry experts.
Benefit from the final practical experience - Internship or Direct Employment of minimum 4 months.
Choose your preferred Visa Entry Route to benefit from a post-study visa inthe UK or France.
Two Specialisation Tracks: Financial Services (FinTech), and Industry & Automation
Accredited by the French Ministry as Grade de Master Visa Bac+5 (120 ECTS)
ESCP Quick Facts
The World's 1st Business School (est. 1819)
6 ESCP European campuses in Berlin, London, Madrid, Paris, Turin, and Warsaw
Multi-accredited: AACSB, EQUIS, EFMD MBA, EFMD EMBA,
5 European Higher Ed standards
A full portfolio: Bachelor, Masters, MBAs, PhDs and Executive Education
Over 170 research-active professors representing over 33 nationalities
Over 140 academic alliances in Europe and the World in 47 countries
A comprehensive portfolio of 46 programmes: Bachelor, MiM, 27 Specialised Masters, MBA, 2 PhDs, 12 Executive Masters, EMBA, Global EPhD, as well as a custom and open programme offer
8,000 students in degree programmes representing 122 nationalities
5,000 Professional-level participants
68,000 active alumni in over 150 countries in the world
Ideal Students
Based on September 2020 intake:
38 participants
16 unique nationalities in class
Average age: 26 (ranging 22-30)
Average work experience: 1.5 years (ranging 1-6)
50% Male | 50% Female
Academic Background:
Management/Business/Marketing: 58%
Engineering/Sciences/Technology: 16%
Economics/Political Sciences: 13%
Other: 13%
Curriculum
Hands-On Approach with Real-Life Projects
12-week Company Consultancy Project
Practical seminars, guest talks and workshops
Essential skills in the technology-driven world training
Minimum 4-month Internship or Direct Employment
Cognitive Skills & Leadership Courses
Megatrends: Understanding How the Future Unfolds
Leadership & Cultural and Emotional Intelligence
Creative Thinking
Social, Political and Ethical Dimensions in Digital Transformation
Digital Technologies Courses
Business of Frontier Technologies 1 (Artificial Intelligence, Cryptocurrencies, Blockchain)
Industry 4.0
Big Data & Business Analytics
Business of Frontier Technologies 2 (AI, Machine Learning, 3D Printing & Additive Manufacturing, Robotics, Internet of Things, Blockchain)
Transformation Management Courses
Digital Transformation & Business Strategy
Change Management
Management in the Era of Digital Transformation
Management of the Digital Transformation Process
Project Management
Specialisation tracks
You will also be able to choose one specialisation track to deepen your understanding of the effect digital transformation has on certain industries, the economy and the society at large.
Track 1: Financial Services
Financial Markets, Institutions & Regulations
Fintech
Track 2: Industry & Automation
Operations Strategy and Management in the fourth industrial revolution
Automation, Robotics and Flexible Manufacturing Technologies
Rankings
Ranked #2 Business School in the UK and #8 Business School in Europe (FT, 2020)
Program Outcome
Develop a deep understanding of how major frontier technologies work, as well as their business, economic and social impacts
Get the right mix of business intelligence and digital skill sets to become future leaders and executives, being able to manage both people and machines
Gain a competitive edge in the digitalisation or digital transformation environments
Manage digital business processes and acquire the knowledge and skills needed to support digital transformation initiatives
Develop new thinking and insights into how to lead and thrive in the digital era
Wondering if this is the right Master for you? Take our 4-min eligibility and career fit quiz!
Career Opportunities
The programme is strategically designed to prepare you for a career in the areas of:
Consulting
Business Data Analysis
Project Management
Marketing
Digital Strategy
Strategic Management
Innovation and Change Management
Business Development
You will be well-suited for a job in a variety of industry sectors affected by digital transformation, as well as ready to hit the ground running in the exciting startup world.
Class of 2021 employment
70% were employed before graduation
56% were offered a job immediately after completing their internship
TOP 3 JOB TITLES: Consultant, Analyst, Project Manager
SECTORS: 44% Management Consultancy | 25% IT & Technology | 13% Banking & Finance | 12% Fashion, Luxury & Cosmetics | 6% Advertising & Communications
GRADUATES HOLD POSITIONS SUCH AS:
Business Consultant
Business Development Manager
Digital Strategy Consultant
Digital Transformation Associate
Digital Transformation Consultant
Investment Analyst
Manager
Project Manager
Strategic Consultant
Strategic Investment Analyst
Wealth Management Analyst
COMPANIES HIRING
Accenture - UNIQLO - Wavestone - L'Oréal - EI Technologies France - Orange - KPMG - Xiaomi Technology - BearingPoint - Deutsche Bank and many more...
Wondering if this is the right Master for you? Take our 4-min eligibility and career fit quiz!