MSc in
MS in Geography
The George Washington University - Columbian College of Arts & Sciences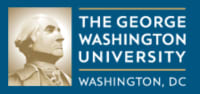 Introduction
The Master of Science in Geography degree program trains young professionals in areas of human and physical geography, while building on students' working knowledge of geospatial techniques. With a faculty-to-student ratio of 1-to-2, our graduate students have exceptional mentorship and research opportunities.
Students supplement required coursework in geographic methods and basic GIS with elective courses that match their specific interests. Possible elective topics include Arctic climate systems, methods for analyzing mortality and birth rates, water resource policy, and city planning.
Recent graduates have gone on to prestigious Ph.D. programs and jobs at the U.S. Department of State, the U.S. Office of Foreign Disaster Assistance, the National Geospatial-Intelligence Agency, the Brookings Institution, and more.
Curriculum
Part of the social and behavioral sciences in the Columbian College of Arts and Sciences, the program investigates societal and environmental dynamics, focusing on questions of sustainability, urbanization, and uneven resource distribution. Our graduates pursue rewarding careers in governmental and non-governmental agencies and in the private sector.
The graduate program has three core areas that reflect the research interests of the geography faculty 1) urbanization, migration, and development; 2) global environmental change and sustainability; and 3) geospatial techniques. Geography faculty members also have regional expertise in North America, Latin America, South Asia, Africa, the Middle East, and the Arctic.
The MS program consists of required coursework and electives. The two-year program has both thesis and non-thesis options. Funding is available to support thesis-related summer field research through geography's Campbell Endowment. A number of fellowships and graduate student assistant-ships support students.
Thesis and Capstone
To fulfill degree requirements, MS students choose either a thesis option (30 credit hours) or a non-thesis/capstone option (36 credit hours). Students taking the non-thesis option must complete a geography capstone course, which can take the form of either an original research project supervised by a faculty member or a research and analysis assignment completed during an internship for an external client.
Capstone research can be considered for the department's Campbell Graduate Research Grants. The grants fund travel and other costs associated with graduate research.
Course Requirements
The following requirements must be fulfilled:
The following requirements must be fulfilled: Thesis option—30 credits, including 15 credits in required courses, including 6 credits of thesis, and 15 credits in elective courses; non-thesis option—36 credits, including 12 credits in required courses and 24 credits in elective courses.
The student's program of study is developed in consultation with the advisor and the graduate committee.
Required
GEOG 6201Geographic Thought
GEOG 6304Geographical Information Systems I
GEOG 6292 Qualitative Methods in Geography

or GEOG 6305 Geospatial Statistics

For thesis option only:

GEOG 6999Thesis Research (taken for a total of 6 credits)

For non-thesis option only:

GEOG 6295 Research

or GEOG 6300 Geography Capstone Internship
Electives *
For thesis option—15 credits in elective courses; non-thesis option—24 credits in electives. All students must take at least one of the following courses:
GEOG 6226Water Resources Policy and Management
GEOG 6232Migration and Development
GEOG 6250Geographical Perspectives on Development
GEOG 6306Geographical Information Systems II
GEOG 6307Digital Image Processing
GEOG 6308Programming for Geospatial Applications
GEOG 6309GIS for Emergency Management
GEOG 6310Geovisualization and Cartography
GEOG 6311Open Source Solutions for Geospatial Project Management
GEOG 6300Geography Capstone Internship
Depending on their area of specific interest, students select electives from appropriate courses within the department or from related programs and departments within the University or the Consortium of Universities.
Scholarships and Funding
Campbell Graduate Research Grants
The highly competitive Campbell Graduate Research Grants are awarded to several graduate students each summer. Past awardees have applied their funding toward research projects in the Arctic, Ghana, Panama, Alabama, and around Washington, D.C. Recently, two students received Campbell funding for their capstone research project based out of Mixco, Guatemala. Their project used open-source mapping tools to help vulnerable communities reduce disaster risk and adapt to disasters.
Each March, the department puts out a call for Campbell Research Grant proposals to fund summer projects. Students are encouraged to submit research proposals at the end of their first year in the MS program.
Fellowships and Assistantships
The Geography Department offers a number of graduate student assistantships as well as student "grader" positions. Applications for assistantships and grading positions are evaluated following admission to the program, and awards are made on the basis of academic qualifications. Awards are granted for one year, with the understanding that if assistantships are available and if the student maintains good academic standing, the award will be renewed for a second year.
Other CCAS Graduate Student Funding
Columbian College offers additional funding options, including research grants, scholarships, and military education benefits.
Career Opportunities
Alumni Outcomes
Geography jobs rank among the fastest-growing and highest-paid for recent graduates. Geographers are sought after in federal, state, and local administrative agencies; in private firms that specialize in planning and development; and in environmental and socioeconomic analysis jobs. Our alumni pursue rewarding careers in all of these fields and have even returned to join our faculty to teach and research in their fields.
Recent Graduate Alumni Employers
Apple
Arlington County Government
Boeing
Booz Allen Hamilton
Brookings Institution
D.C. Office of Zoning
Fairfax County Police Department
Inter-American Developmental Bank
National Geographic Society
National Geospatial-Intelligence Agency
Pew Research Center
Rails-to-Trails Conservancy
Smithsonian Institution
U.S. Agency for International Development
U.S. Census Bureau
U.S. Department of Defense
U.S. Department of State
World Bank Group