At the ICMP, we have always focused on the needs and potential of individual students, ensuring that the education we provide is tailored and personalised, and giving you the best chance of success in the very competitive and challenging environment of the music industry.
Original
We are extremely proud of our history and heritage, unrivalled in the music education sector. Over the 30 years we have been teaching, we have earned a reputation for quality, excellence and success, and, as a result, thousands of students have chosen to study with us, making the ICMP the starting point for their careers in music. The ICMP was founded in 1986 as the Guitar Institute and Basstech and was the first institution to provide relevant, practical and professional training for contemporary musicians. Yet, while the name and identity of the ICMP have naturally evolved over time, the underlying focus on the needs of the students has never changed. As a result, ICMP graduates can now be found making successful careers all over the world – playing, performing, and creating or teaching music, both in their home communities and on some of the world's greatest stages.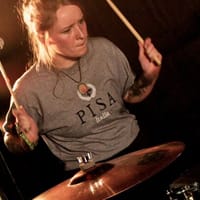 This year at the ICMP, we are celebrating our 30th year of developing and delivering relevant, high-quality courses for music students. We pioneered the teaching methods, curriculum structure and philosophy that have now become the benchmark for contemporary music education. Our teaching faculty, our greatest asset, has always been unrivalled in the UK, and in fact anywhere else in the world. Our London location is central to our ability to provide students with an incredible range of opportunities to showcase their talent and build their networks, and our inspirational learning environment provides you with the perfect opportunity to develop your skills and knowledge in preparation for a successful career in music.
Innovative
The ICMP was the first to offer full-time programmes for students of contemporary music, and we continue to innovate and develop our provision. This unrivalled experience means that our students acquire the techniques to express themselves, the tools to survive in the industry, and the ability to make rewarding careers as players, performers, teachers, industry executives, entrepreneurs, and more.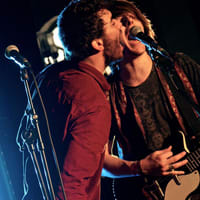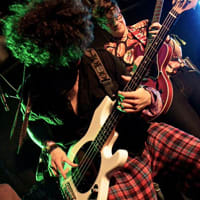 Independent
The ICMP is an independent provider of music education. Unlike other schools, we are not beholden to investors who have short-term business goals to achieve. Our objective is not simply to open more and more centres and enrol more and more students. As a result, we can take a very long-term view on developing and improving our provision and standards of excellence to support the career development of a wide range of aspiring musicians, creative artists and music entrepreneurs. At the ICMP, you can be sure that the school always has your best interests at heart. Many places try to copy our formula, but, of course, there is only one ICMP – original, innovative, independent and individual.
WHY CHOOSE ICMP
We understand that as an aspiring musician, songwriter or music business entrepreneur you have some difficult choices to make as you start out on your career. Our mission is to inspire, encourage and equip our students to succeed by delivering relevant and innovative education of the highest quality. And we have over 30 years of experience in providing the skills and knowledge and sharing our experience with thousands of students.
A personalised approach to teaching and learning
Here at the ICMP, every student is guided, supported and valued. We work with you towards the achievement of your personal goals. To do so, we have various support elements in place, including individual learning plans, an initial diagnostic assessment, goal-setting, and advice and guidance on module choices. To enhance the learning experience, we offer a range of personalised support including small class sizes; personal tutors; drop-in sessions; personalised employability and industry advice; unlimited free wifi; online access to course materials through a dedicated student portal; directly access to performance and job opportunities; learning support from the Wellbeing team; opportunities to connect with student representatives; and rehearsal rooms that can be booked free of charge.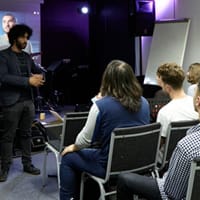 Connected to London's vibrant music scene
When you're starting a career in music, it is indisputable that London is the place to be. As well as being one of the most exciting and vibrant cities in the world, London is at the heart of the global music industry. It is constantly at the cutting edge of music, defining popular culture throughout the world and offering unparalleled opportunities to make the right connections. The ICMP's London location is a real asset, as it means our students are in the best place to start off and thrive in their musical careers.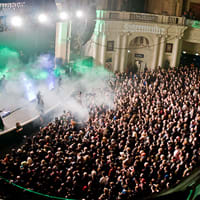 Connected to the music industry
We have an unrivalled network of music industry connections, and we take great pride in the success that ICMP graduates achieve. We are connected to all the major record labels, publishers, promoters and management companies active in London, and we make those contacts available to all our students. Right from day one, we provide a wide range of support and opportunities to our students and graduates, giving you the best possible base from which to achieve your goals.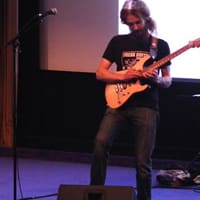 Creative and inspiring learning environment
We are committed to investing in the best possible teaching and learning environment for our students, with the latest equipment always available. Whatever course you choose to follow, you will find the facilities and equipment you need to achieve your goals, alongside inspiring tuition and a personalised approach to your learning. Importantly, all ICMP students can utilise our facilities for personal practice, free of charge, outside of timetabled hours, and we are open seven days a week.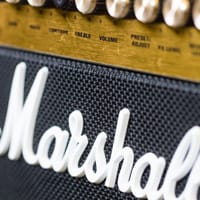 Highly experienced tutors and industry practitioners
It is vital for us that our students are learning from those who can offer them advice based on real-life experience. We know for a fact that students are more likely to succeed in their careers when the teaching they receive is being delivered by tutors who have a practical understanding of the music industry. That's why our tutors are not only qualified and experienced educators and academics, but also highly experienced music professionals, performers and music business entrepreneurs in their own right. They bring all of this knowledge and experience, plus their own extensive industry contacts, to the classroom, providing ICMP students with a unique insight into building and sustaining a career in the music industry.
High contact hours and small class size
We understand that in order to deliver a personalised experience to our students, we must work hard to keep class sizes small and contact hours high. On an ICMP course, therefore, you will benefit from some of the highest contact hours provided anywhere in UK Higher Education, and either in one to one or small group experiences you will be treated as an individual and have significant access to advice and guidance.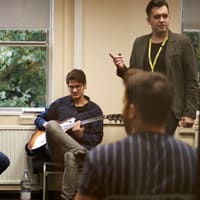 Community of like-minded people
At the ICMP, we offer our students a collaborative and nurturing environment, challenging and supporting you to achieve the best you possibly can. We ensure our students feel they are part of a community and have opportunities to build relationships and engage with like-minded musicians. We provide you with a wide range of activities in which to engage, such as masterclasses and gigs, tours and events, clubs and social activities. We also organise house-sharing events and wellbeing activities. Your student journey at the ICMP will see you become part of a global community within one of the most diverse and multicultural cities in the UK, and you will have the chance to mix with people from all backgrounds, access exciting opportunities, and truly immerse yourself in the music scene.
Recognised, proved and respected higher education institution
Our quality and accreditations are second to none in the world of contemporary music education. The ICMP is widely respected as an experienced and proven provider of higher education; we understand that all aspiring musicians need a serious and experienced partner in order to realise their personal musical goals and ambitions. For 30 years, students have been choosing the ICMP as the starting point for their own careers – and you can too!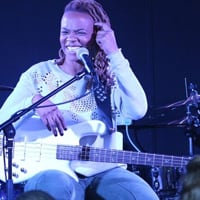 Quality and accreditations
The ICMP is a respected and accredited member of the UK higher education quality community. We are part of a small and select group of providers who can use the Quality Assurance Agency's 'UK Quality Assured' kite mark, providing you with the reassurance that by choosing the ICMP you are choosing an institution that has been quality tested in the same way as any other UK university.