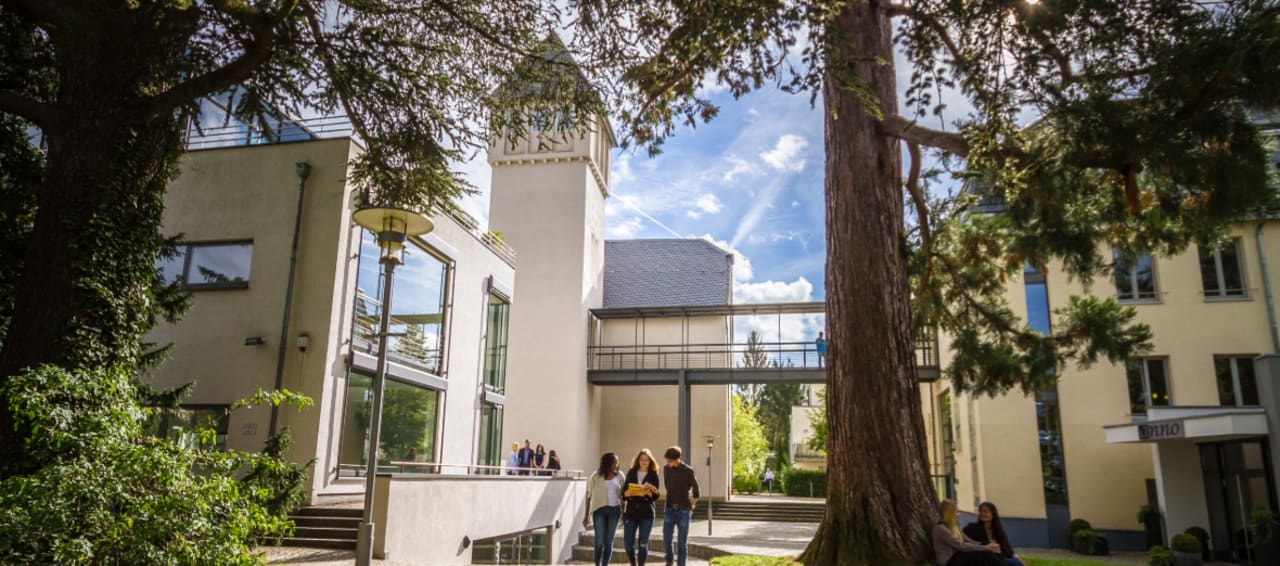 MSc in
Master in Computer Science
IU International University of Applied Sciences
Key Information
---
Campus location
Berlin, Germany
Study format
Blended, On-Campus
Tuition fees
EUR 5,961 / per year *
Application deadline
Request info
Earliest start date
Oct 2023
* the price displayed shows full-time tuition fees, including graduation fees, and scholarship
Introduction
Make 2023 your year. Change your future with IU - apply and save up to 25%!



IU is always looking for new ways to help you combine high-quality education, accessible education, no matter your circumstances. You have the chance to get up to 25% off your on-campus studies! Join IU on one of their campuses in Bad Honnef or enjoy a major European city in Berlin. Their lectures still offer great flexibility, giving you a chance to work, socialize and explore a new continent while working towards your future.



Bachelor 180 ECTS - 25% discount
Master 60 ECTS - 19% discount
MBA 90 ECTS - 6% discount
Master 120 ECTS - 17% discount



Learn More
Your degree, your way:
This field is fast-changing, has its finger on today's pulse, and has become the pacemaker for the digital society of the future. In IU's Master in Computer Science, you continue your journey with a focus on data science, cybersecurity and artificial intelligence. Due to the unmet demand for experts on these topics, you'll become a sought-after specialist who can operate in almost any sector. Your Master's degree in Computer Science will give you all the skills you need to get started in the international job market. With IU, you can study 100% online, on campus, or switch between both with their new flexible studies option.
Why IU?
#1 University in Europe: Join Europe's largest private university with more than 100,000 students
Maximum Flexibility: Study on campus, online or switch between the two options. You choose where you want to study.
Fully Accredited Degree: All our degrees benefit from German state accreditation and are internationally recognized in major jurisdictions such as the EU, US and UK
Study at a 5-star rated University from QS: IU is the first German university that achieved a 5-star rating for Online Learning from QS
International Focus, Practical Orientation: We focus on practical training and an international outlook which gives IU graduates a decisive advantage: 94% of our graduates have a job within six months of graduation and, after an average of two years on the job, 80% move into management. Plus, we work closely with big companies such as Lufthansa, Sixt, and EY to give you great opportunities and insights.
Be a driving force in the global arena
As a subject, Computer Science is in a state of constant flux, as is evidenced by such increasingly relevant topics as Big Data and the "digital agenda". Globalisation and digitalisation of business and society are leading to a high – and largely unmet – need for IT specialists.
In addition to other topics, there are bottlenecks among IT specialists with in-depth knowledge of cybersecurity. To a large extent, this high demand also arises from the fact that these are required not only in the IT industry but also in all user industries.
Facts & Figures
Degree:
Study model:
Duration:
Master of Science (MSc)
On-campus
24 months
Intakes:
Tuition
Admission

April / October

from 349 Euro per month, for full-time study on campus
Bachelor's degree, placement test if necessary,
proof of English language skills
Scholarships and Funding
Change your future with IU - apply and save up to 25%!
IU is always looking for new ways to help you combine high-quality education, accessible education, no matter your circumstances. You have the chance to get up to 25% off your on-campus studies!
Join IU on its campuses in Berlin. Their lectures will offer great flexibility, giving you a chance to work, socialize and explore a new continent while working towards your future.
Curriculum
1st Semester

Programming with Python
Software Engineering: Software Process
Advanced Mathematics
Advanced Statistics
Data Science
Project: Software Engineering

2nd Semester

Algorithmics
Cyber Security and Data Protection
Seminar: Computer Science and Society
Artificial Intelligence
Big Data technologies
Project: Computer Science Project

3rd Semester

Seminar: Current Topics in Computer Science
Networks and Distributed Systems
Elective A (

Choose

one

module

out

of

4:

Advanced

Cyber

Security and

Cryptology

, Blockchain and Quantum Computing, IT

Governance

and Service Management, UI/UX Expert)

Elective B

(

Choose

one

module

out

of

5: Data Engineer, Business Analyst, Technical Project Lead,

Machine

Learning and Deep Learning, Use Case

Identification

and Evaluation

for

Analytical

Applications

)

4th Semester
How does the course of studies work?
For our two-semester Master's you need a Bachelor's degree with 240 ECTS. If you already have relevant professional experience or take our TASC placement exam, a Bachelor's degree with 180 ECTS may also be sufficient.
Where you will be studying
You can pursue our Computer Science Master's degree online or at the two German campuses in Bad Honnef and Berlin.
Rankings
Accreditations, Rankings, and Memberships
Accreditation

IU International University of Applied Sciences has received system accreditation from EQAR, FIBAA, the German Accreditation Council, and the German Council of Science and Humanities. This means that their courses, faculty and teaching materials meet the rigorous standards set according to European academic guidelines and they can now accredit their own programmes.

Awards and Rankings

IU is the first German university to get 99/100 on the QS Stars Report, but they also topped 6 out of 25 categories in Germany's largest university ranking by CHE. Recently IU's online MBA programmes ranked 26th in Europe in the prestigious QS Online MBA Rankings, an impressive achievement and recognition on the international stage.

Memberships

IU is a member of the Business Graduate's Association, Online Learning Consortium, AASCB, and UNESCO's Global Education Coalition. These memberships give them connections to other institutions, companies, and NGOs as well as top-tier degree programmes and lifelong learning development courses. By leveraging cutting-edge technology, IU helps students in need to continue their education and pursue lifelong learning

Since April 2023, IU is a member of the Association of Indian Universities (AIU), the largest university association in the world with foreign universities as an associate member. IU is also the only European member of Association of African Universities (AAU), a network of over 420 universities and research centres from across the African continent
Global Recognition and Academic Partners
Global Recognition
As IU is recognised by WES Canada and U.S., their degrees can be converted into points according to local academic standards in the Canadian Immigration Point System and American Immigration Assessment Scheme.
Academic Partners
Through partnerships with academic institutions from all around the world, IU offers a more affordable way for students to study and live abroad. The IU Study Abroad Alliance lets students start a degree online at IU and complete it at a partner university in the US, Canada, Australia or Europe, where career opportunities are aplenty
Program Outcome
What you will learn
The Master's programme in Computer Science prepares you optimally for a career in one of the most important domains of the future corporate world.
You will acquire the knowledge and skills required to design cybersecurity systems in development projects and IT infrastructures.
You will learn how to select the appropriate tools, processes, and algorithms for a variety of practical tasks.
Building on solid theoretical foundations in cybersecurity and cryptology, you will explore cutting-edge topics like quantum computing, blockchain theory, and more.
Career Opportunities
Career Possibilities
Data Engineer
As a data engineer, you take care of all processes to do with the generation, filing, processing, maintenance, and transferring of data. For this, the structure and surveillance of hardware and software infrastructure is crucial. The approach, purchase, as well as installation of all necessary components, is a key part of this. Above all, you, as a data expert, are responsible for the stability of the entire system, as well as the adherence to data protection and security protocols.
Software Developer in Data Science & AI
As a software developer, you develop and implement software – from individual building blocks all the way to complete applications. With your specialisation in Data Science and Artificial Intelligence, you can turn complex algorithms from the field into efficient software. In coordination with users from different specialised departments, you develop solutions for filing and evaluating large amounts of data and using this data to answer your users' questions.
Data Security Specialist
As a security specialist in Data Science and AI, you are responsible for the security of available data, as well as securing the corresponding infrastructure and protecting it from both attacks and accidental damages. You, your colleagues from software development and IT, and users from the specialist department cooperate to eliminate risks and make corresponding preventative measures.