MA in
MA in Interpreting
Queen's University Belfast - Faculty of Arts, Humanities and Social Sciences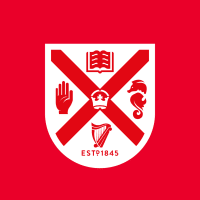 Introduction
This MA in Interpreting is designed to provide students with:
In-depth knowledge and understanding of the contexts and practices of professional interpretation enabling students to develop the skills upon which professional interpreter competence is predicated.
Advanced expertise in their language pairs.
In-depth knowledge of the language-services marketplace.
Appropriate opportunities in professionally-based practice.
Professional Accreditations
Students who complete the additional module Principles in Community Interpreting are eligible for the award of a OCN Level 4 certificate in Principles of Community Interpreting.
Career Development
Graduates can pursue careers in a range of areas where interpreting and translation skills are required, e.g. academic, creative writing, translation and interpreting industry, public policy, business and commerce and journalism. The programme includes specialist training in translation technologies and offers opportunities for work experience.
Internationally Renowned Experts
You will be taught by staff with research profiles of international standing, with a wide and diverse range of interests in interpreting and translation studies. Research in Modern Languages at Queen's was ranked 3rd in REF 2014 for Research Intensity and 5th for Grade Point Average, with particular strengths in literary studies, translation and interpreting, linguistics, postcolonial studies, visual cultures, digital humanities and medical humanities. The School hosts several large research projects across all the language areas, funded by the AHRC, the Leverhulme Trust, British Academy, and Horizon 2020.
Student Experience
The Centre for Translation and Interpreting is a vibrant international, multilingual and multicultural research community. MA students thrive in a welcoming and encouraging atmosphere, developing close associations with teaching staff and our large cohort of PhD students through shared classes and weekly seminars with renowned visiting speakers.
Curriculum
Course Details
The programme introduces students to the contexts and environments in which professional interpreters work and to the research techniques and modes of practice required by these contexts. Delivered through a combination of seminars, workshops, guided private study, a programme of visiting speakers, and appropriate professional practice, the structure of the programme enables students to work at the highest professional level. Please note that only the Chinese-English language pair will be offered for 2022 entry.
Dissertation
The dissertation will either be an extended essay on an aspect of interpreting theory and practice; or a case study documenting an extended interpreting engagement.
Semester 1 Modules
Consecutive Interpreting (20 CATS)
Simultaneous Interpreting (20 CATS)
Semester 1 and 2 Module
Principles and Practices of Interpreting (40 CATS)
Semester 2 Modules
Commercial Interpreting (20 CATS)
Public Service Interpreting (20 CATS)
Career Opportunities
Careers in interpreting and translation can be both highly intellectual and extremely rewarding in a practical sense. In addition to international organisations, interpreters and translators can work in a range of roles in diverse companies or as freelance translators working for agencies and/or direct clients. Professional interpreting and translation skills are valued in many areas of employment, notably banking and finance, politics, NGOs, publishing, libraries, arts venues, management consultancy, law, and jobs in engineering and manufacturing, due to their international client base. Interpreters and translators are also required in a wide range of other activities and lines of work, including aiding police investigations and other security services, supporting migrant communities, conference proceedings, sports events, and governmental communications.
Degree plus award for extra-curricular skills
In addition to your degree programme, at Queen's, you can have the opportunity to gain wider life, academic and employability skills. For example, placements, voluntary work, clubs, societies, sports and lots more. So not only do you graduate with a degree recognised from a world-leading university, you'll have practical national and international experience plus a wider exposure to life overall. We call this Degree Plus. It's what makes studying at Queen's University Belfast special.