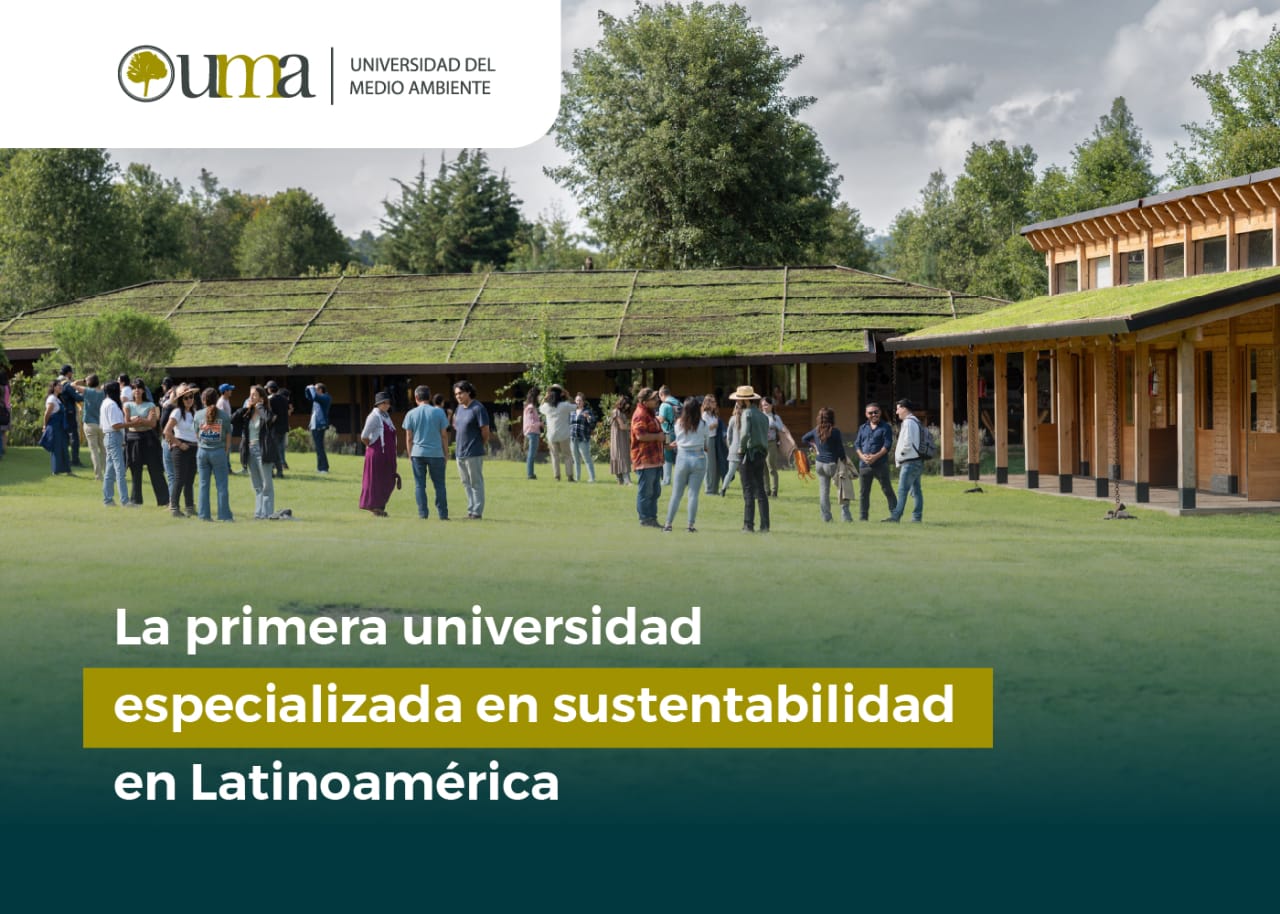 Master in
Master in Agroecology and Regenerative Food Systems
Universidad del Medio Ambiente

Key Information
---
Campus location
Valle de Bravo, Mexico
Tuition fees
MXN 309,600 *
Application deadline
30 Nov 2023
Earliest start date
01 Oct 2023
* not including graduation fees
Introduction
Let's learn to cultivate the health of the soil, society and the ecosystem
Learn how to integrate healthy food production with a regenerative environment and the promotion of social equity.
The Master in Agroecology and Regenerative Food Systems explores new food production frameworks that are effective in managing biodiverse agroecosystems, have high resilience to environmental change, and are energy efficient. This entails combining technological advances with traditional local knowledge, regenerative agriculture, the principles of the solidarity economy and the socio-political understanding of agri-food systems.
Purpose
Develop an agri-food paradigm based on the health of people, soils and ecosystems, to co-design proposals for agroecological management that are sustainable and fair.
From the UMA we help you find accommodation in Valle de Bravo during face-to-face workshops
One of the biggest attractions that our students find when coming to UMA is getting to know Valle de Bravo; a place that allows you to connect with nature and with a vibrant community in socio-environmental matters.
The day to day in Valle de Bravo offers peace and tranquility, as well as a rich social offer, public events, and the practice of sports such as paragliding, sailing, skiing, mountain biking or climbing.
Being a tourist place, Valle de Bravo has a wide variety of accommodation for different tastes and budgets.
Ideal Students
Who is our Master's degree aimed at?
We look for interdisciplinary groups, so the Master's degree is aimed at professionals with different profiles and work areas, for example:
Production: Integrates the principles of agroecology in the management of agroecosystems, focusing them on the production of healthy foods.
Management: Develops and applies comprehensive territorial management plans with a participatory approach.
Entrepreneurship: Receive support in the development of initiatives and innovations based on agroecological production, with a broad understanding of the agri-food system.
Marketing: Reduces the distance between producers and consumers through marketing processes in short networks and with regional identity.
Scholarships and Funding
At UMA we offer two types of scholarships:
We seek to support people with high potential for change agency who are interested in studying the Master's degree, but who are in an economic situation that does not allow them to pay the full tuition fee. We have a limited number of scholarships and these are distributed to those who need it most and best meet the criteria specified below.
Within our admission application you will find a section where you can apply for the scholarship you need (see Admission Process tab), you must indicate the type and percentage of scholarship you are looking for. If you are interested in a scholarship, keep in mind that you can get a higher percentage if you submit your application in the first round of registration.
a) Partial scholarships: Scholarships of 10% to 20% of the cost of the Master's Degree, not including degree costs.
b) Exchange scholarships: Scholarships from 25% to 40% of the cost of the Master's degree, not including degree costs. These scholarships are given in exchange of time to support activities of the Master's coordination or the UMA community. You can choose between different support activities, and they can be done from anywhere and at flexible hours.
Discount for full Master's payment: 15%.
Applies if you pay for the entire master's degree in advance.
Discount for advance payment of one year: 10%.
Applies if you pay a full year in advance.
Discount for early payment of a semester: 5%.
Applies if you pay for a full semester in advance.
If you receive a scholarship, any of these discounts are applied to the amount payable after taking into account the percentage of scholarship awarded.
Rankings
The awards received recognize us as one of the best educational innovations in Latin America.
Curriculum
The Curriculum of the Master's Degree in Agroecology and Regenerative Food Systems was co-designed by an interdisciplinary group of specialists and change agents with extensive experience and vision, resulting in an integrated curricular design that evolves each semester according to the experience.
The Study Plan is made up of four semesters, taking place in two years in blended mode. The program consists of 76 credits that are taken in 402 face-to-face hours with a teacher and 814 non-face-to-face or independent hours, to complete a total of 1,216 hours.
The Master's degree is focused on a process of semester projects, through which the knowledge and tools acquired in the seminars are applied, professional development is explored, and vocation is investigated. Each student develops their own process according to their possibilities, questions and context. In the last year of the Master's degree, a final project is designed and implemented, which constitutes the degree work.
A) Axes and Curriculum Lines
The Curriculum is organized into three curricular axes: the specialized content axis, the change agency axis and the projects axis. These three axes reflect the UMA's educational proposal for the development of professionals (specialized axis), in order to participate in the transformation towards sustainability (change agency axis), through learning by doing (project axis).
specialized axis
This axis is disciplinary, so it is carried out only by students of the Master's Degree in Agroecology and Regenerative Food Systems. Its purpose is for students to acquire the tools and skills necessary to successfully develop agroecology projects. This implies articulating the three major dimensions of agroecology: its disciplinary dimension and systematic development of knowledge, its practical dimension and implementation of ecological technologies, and its social dimension and citizen mobilization in favor of food security and sovereignty.
Curricular lines:
• Agroproductive processes : Provides the knowledge, tools and perspectives of attitude and values, as well as the disciplines and strategies that constitute the foundation of agroecological practice; such as the origins and foundations of agroecology, productive strategies in the different frameworks of agroecological action, design and implementation of ecosystemic regenerative practices and development of productive strategies for the competitiveness of productive initiatives.
Agroecology and food: Provides the knowledge, tools and perspectives of attitude and values that arise from applying ecological concepts and principles in the design and management of agroecosystems and analyzing the sociocultural phenomena that occur in their field. Agricultural production is considered as an authentic agricultural culture enriched from different perspectives, requiring the continuous transfer and appropriation of agricultural technologies to and from rural and urban societies; allowing to develop the understanding of the relationship between the planning and design of productive landscapes and landscape ecology.
• Agroecological practices workshop: Provides the practical, technical and technological elements necessary to carry out agricultural and restoration management and activities within the agroecological framework. It allows the appropriation of field activities in good practices and management, as well as the necessary reflection to revalue and adjust its production process. The workshops are accompanied by the theoretical component of the other two curricular lines, with which they complement and synergize. These practical workshops take an additional day in the face-to-face meetings each semester, so unlike other master's degrees, the meetings are 5 days instead of 4 (Friday to Tuesday).
Change agency axis This axis is interdisciplinary, so it is shared by the different master's degrees at the UMA. Its purpose is to provide essential tools and concepts for the agent of socio-environmental change, regardless of their specialty.
Curricular lines:
• Thinking frameworks: Develops systemic, critical, evolutionary and ethical thinking frameworks for socio-environmental action.
• Socio-environmental frameworks: Develops the bases to conceptualize sustainability and socio-environmental problems, promoting a regenerative vision and emphasizing the importance of considering the human and ecological aspects as a single system
Project axis In this axis, practices and projects are developed that apply and interconnect the contents addressed in the other two axes, according to the possibilities and context of each student. It constitutes a space for experimentation and reflection, both individual and collective. It uses active research as a methodology, which develops the ability to formally investigate our actions, in a cyclical process that allows increasingly more complex actions informed by experience.
Curricular lines:
Professional active research: In disciplinary groups by master's degree, each student designs and implements professional experiments and projects that allow applying new knowledge and tools and investigating the socio-environmental vocation; reflecting on the experience collectively.
Personal active research: In interdisciplinary groups between master's degrees, each student designs and implements capacity-building processes for personal development, self-directed learning and leadership; reflecting on the experience collectively.
The groups are integrated each semester in a community of practice format, each with approximately 9 students, and are coordinated by Facilitators experienced in supporting group and individual processes.
Career Opportunities
Upon finishing the Master's degree you will be able to:
Integrate processes for the management of agroecosystems with agroecological and permaculture methods.
Understand the management of agroforestry systems with a participatory approach.
Link the close relationship between food production and health.
Prepare biofertilizers and other inputs for comprehensive agroecological management.
Manage agri-food projects from the principles of solidarity economy and with an understanding of value chains.