MA in
MSc in International Economy and Business
University of Sopron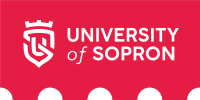 Introduction
This undergraduate program aims to train economists to acquire high-level foreign language communication skills as well as the capability to manage international entrepreneurial activities based on the obtained economic knowledge and applied economic and methodological knowledge of their specialization. Completion of this program allows students to continue their studies in Ph.D. program.
Career Opportunities
Middle/higher division leader
Prospect company leader
Diplomacy,
Researcher
Analyst
Academic carriers
Multinational companies
Financial and service institutions
Consultancy
Media expert
Political fields, etc.