Master in
Master in Integrated Electrical Systems Engineering in Vehicles
Valahia University of Targoviste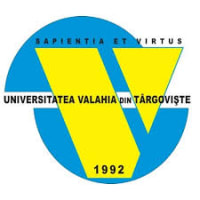 Introduction
The mission of the international Master's program – Integrated Electrical Systems Engineering in Vehicles is that of promoting education and scientific research according to the requests for integration in the knowledge society, regarding consolidation and developing the European Space of Education and European Space of Scientific Research by promoting the great values at the level of all the on-going activities and processes.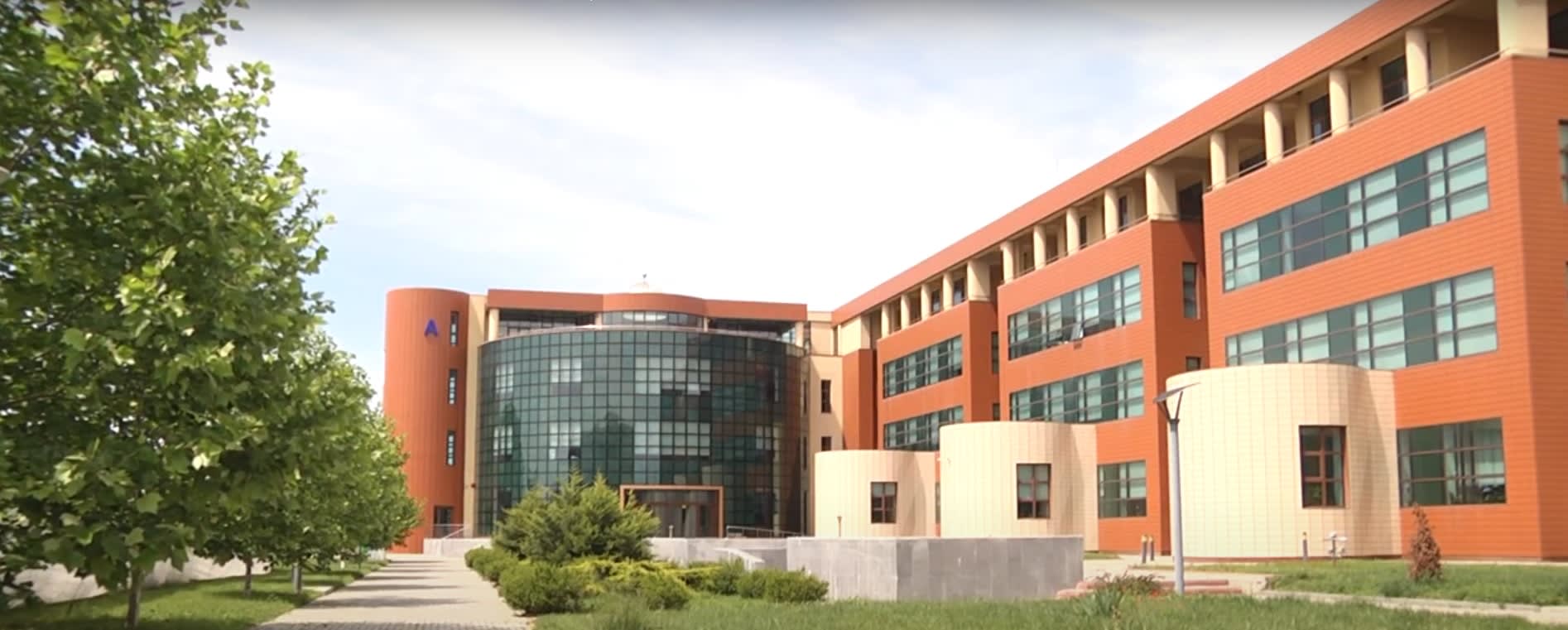 The general aims of the study program:
Creating a pole of higher education and research in electrical engineering domain.
Forming specialized human resources for professional activities in the field, with research skills for doctoral studies.
Adapting the offer of courses in the master's program and scientific content of disciplines at the needs of the national and international industry.
Upgrading the teaching and professional activities and correlating them with those in the international area of higher education and research.
Ensuring the conditions needed to participate in international networks and programs of training and research in the domain.
The specific aims of the study program:
Ability to develop studies, reports, and synthesis of documentation, respectively technical-economic on the subject of electrical systems integrated into vehicles.
Ability to solve specific problems in the field of electrical systems integrated into vehicles by integrating, associating, and synthesizing the acquired knowledge.
Knowledge of elements (notions, principles, concepts, methods, components, systems, equipment, installations, regulations, policies) specific to the field of electrical systems integrated into vehicles.
Ability to efficiently exploit existing resources under certain deadlines imposed to solve tasks, even in new situations.
Ability to adapt and be self-taught in new techniques, technologies, concepts.
Creation of managerial engineering capacities for initiating, planning, executing, and controlling projects in the field of electrical integration for vehicles.
Knowing the basic concepts of the functioning of European financial instruments.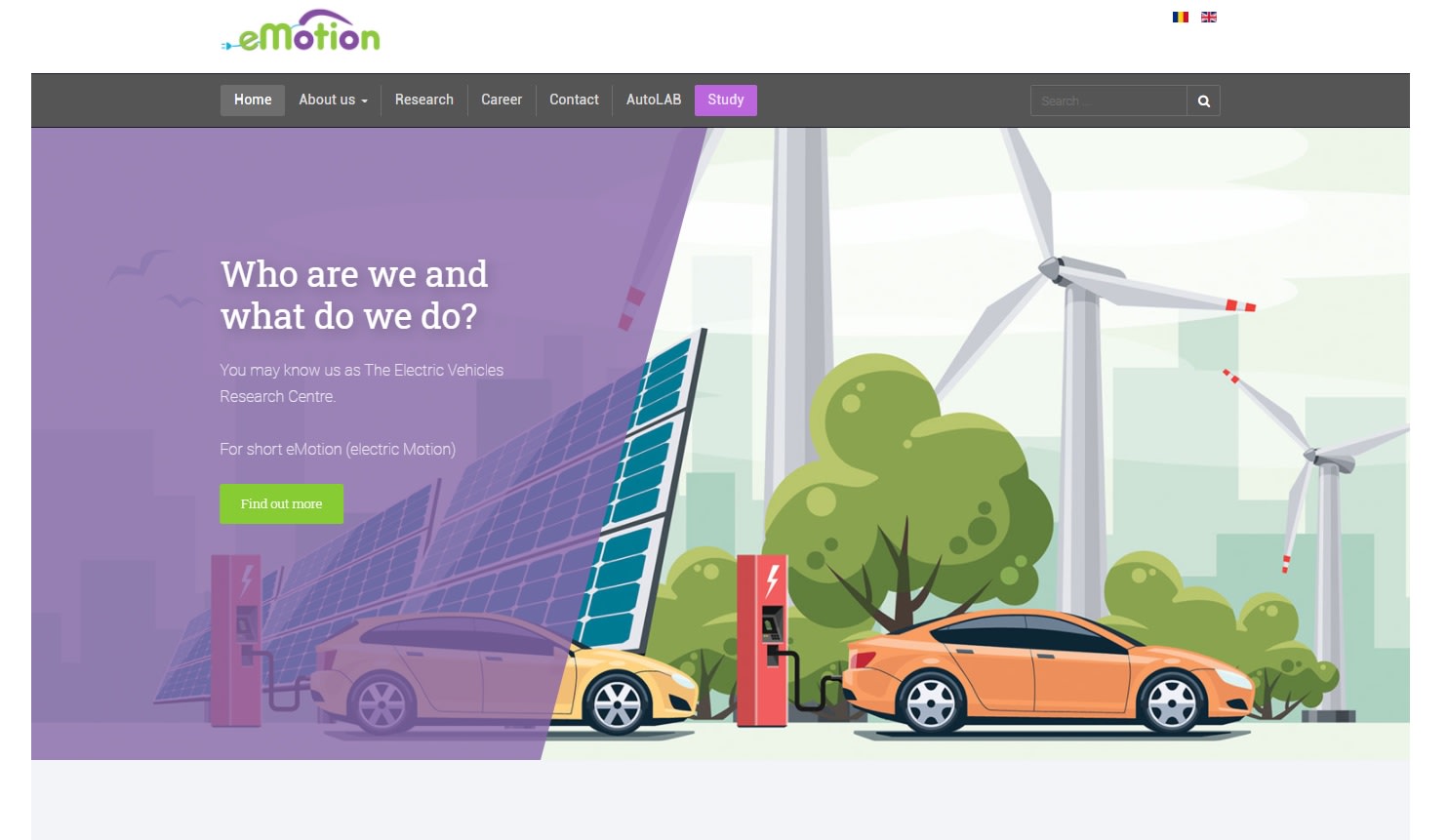 Eligibility and Students admission
Bachelor study (without restriction)
Test of English knowledge (listening, reading, conversation) + Interview (in September)
Curriculum
1st year / 1st semester
Vehicles principles and architecture
Numerical methods for PDE and applications
Development and management of object-oriented software projects
Automotive Electronics
Applied Research 1/ Automotive Operating Systems
Research practice
1st year / 2nd semester
Electric propulsion systems for EV
Methods and devices for advanced measurement systems
Communications and interconnecting devices
Integrated data acquisition systems
Applied Research 2/ Advanced composite materials for the automotive industry
Research practice (Renault company)
2nd year / 1st semester
Numerical simulation of integrated embedded systems
Heating/cooling of vehicles components
Power electronics. Structure and control methods
Integration of Electric Vehicles in Smart Grids
Applied Research 3: Virtual Testing and Validation
Research practice (Renault company)
2nd year / 2nd semester
Vehicles environmental impact
Electric vehicles capabilities
Systems engineering management
Ethics and academy integrity
Research /Practice for dissertation /Dissertation thesis writing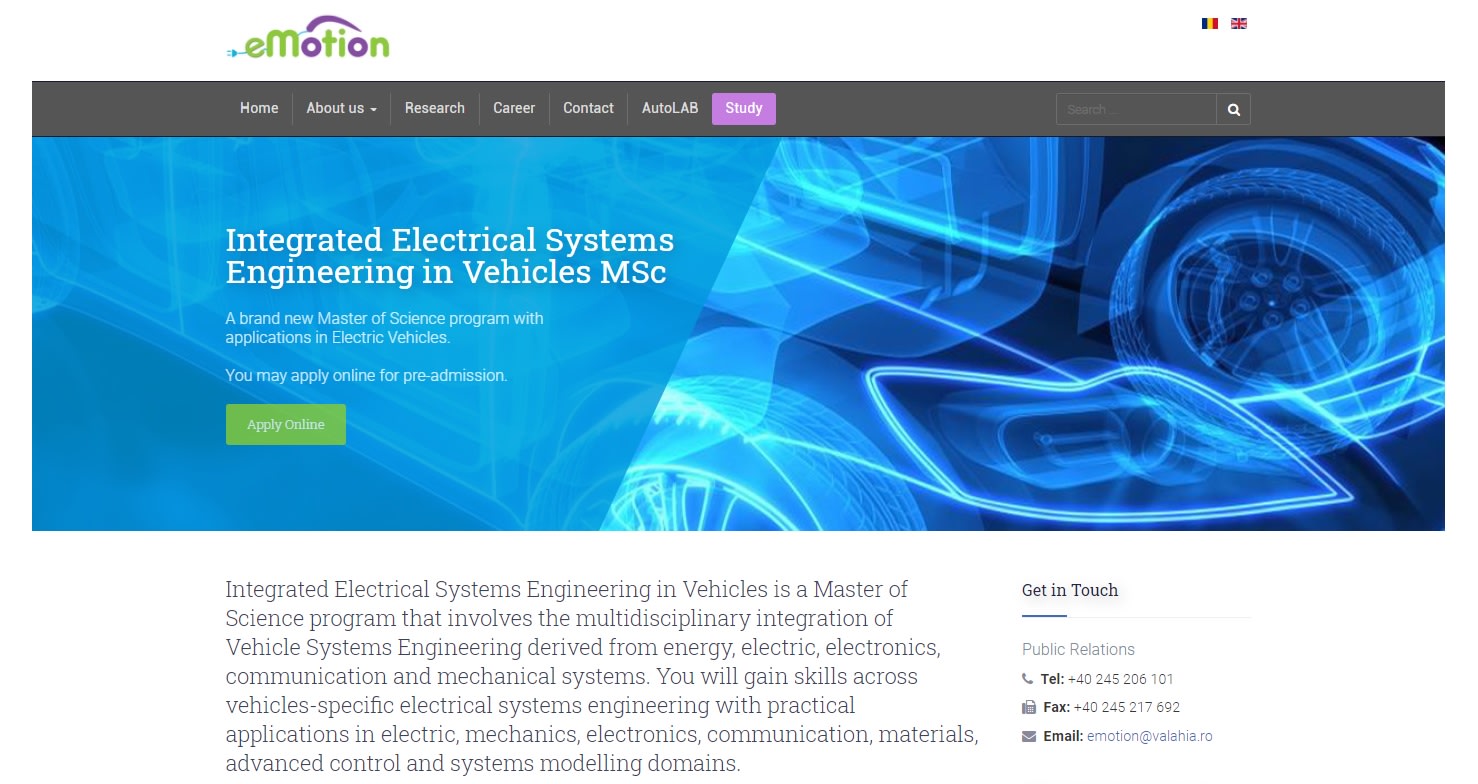 Valahia University is Getting in touch with you on Zoom! ID: 91441402113 Password: 605267
Are you a high school student or a graduate seeking to follow a bachelor's, master or doctoral degree in an EU city blending the wealth of its history with the strength of its newly built campus? Are you passionate about science, knowledge and looking for thriving student life in a city neighboring the Capital of Romania, the main international airport, the mountain splendors of Sinaia and Bucegi? You can study and enjoy a cozy and relatively inexpensive student experience in Targoviste while having full access to the latest research discoveries, state-of-the-art study programs, high-tech technologies, and modernly equipped amphitheaters, labs, seminar rooms, and student dorms.
A fully accredited high education institution awarded with the label "High Degree of Confidence" by the Romanian Ministry of Education, Valahia University is a comprehensive institution offering you study degrees in law and public administration, business and economic sciences, electrical engineering and electronics, information technology, environment, and food sciences, material and mechanical engineering, sciences (Mathematics, Physics, Chemistry), history, geography and tourism, political sciences and media studies, Romanian and foreign languages (French, English), Orthodox theology, education, music and musical pedagogy, trade, tourism and services, and agriculture. Some of our study programs are taught in English or French and the largest share of them in Romanian with a preparatory year of Romanian language offered in the first year of studies.
Get in touch with us every Monday onwards from 12 AM to 1 PM by filling out the registration form no later than 24 hours before the event.