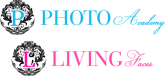 Photoacademy & Living Faces Berlin
Is Photography or Make-up your passion?
Would you like to turn your hobby into a profession and a successful career in one of the most vibrant capitals of the world? Then welcome to Berlin, the City of unlimited possibilities. Berlin, the German capital, setting the trend in lifestyle, music, art, and fashion. It all starts here!

Welcome to the creative school of Photography and Creative Make-up. Photoacademy Berlin & Living Faces – one school, two pathway possibilities. Forming synergies, creating networks. Abiding by this motto, Photoacademy Berlin and Living Faces offer a unique educational concept to become a professional Photographer or Make-up artist. All in one location.

Each area of education has its own main focus: - Photoacademy Berlin offers a twelve-month program Professional Photography - Living Faces offers a twelve-month program to become a certified Make-up Artist.

No matter which area you are interested in, we offer you a personal learning environment with a highly committed team of tutors who strive to support you in your individual future plans.

The school is based on the grounds of the Malzfabrik (www.malzfabrik.de), located in the center of Berlin. Future photographers and make-up artists meet in the school's 1000sqm and exchange their creativity in various projects on a daily basis. Networks are being formed already during the program.

Professional courses help you to master the future challenges that you will face in this area of business and prepare you for a successful career in media.

Berlin – creative and international
Berlin reflects the fast changes in fashion and lifestyle. The opposing styles throughout the city make Berlin very attractive for young people from around the world. Trends are being created here and the variety of individual living concepts are part of the atmosphere that the city creates. Likewise, Berlin is a very young city. 20% of its citizens are below the age of twenty-five. The worlds creative scene comes to Berlin. One of the attractions for Berlin is that living costs are reasonably low in comparison to other big cities. At the heart of this ever-changing, historical city is our school. From here you have the opportunity to use the endless exciting locations all over the city for your photo shoots. Get inspired by the various cultural possibilities like museums, photo exhibitions or the Fashion Week.

You need help finding a place to live?
Of course, we will help you in finding a place to live. We can also connect you with other students if it's your preference to share an apartment. Just ask us.

Our Demand as a School
It is our mission to prepare you for the working life of a photographer or make-up artist. Aside from teaching you the skills you need to be the best in your professional field, we also teach you how to think in business terms as well as educate you to take care of the very important marketing side. Only those who know how to work as a creative professional in the free market will be successful there. Every student has individual attention. Throughout your education, we will discuss your personal needs and prepare you as best as possible for your working life as an employee or freelancer.

In addition, each student leaves our school not only with a degree but with a professional portfolio, a personal homepage, and business cards as well as a road-map for how their career starts following the last day of school.

In order to achieve these goals, we are working with tutors that are successful in their field and are aware of what the industry demands today. If you are prepared to work hard and with determination to achieve these goals, then we can educate you to make these goals possible. So, start your career as a professional photographer or make-up artist here in Berlin.

Locations
Berlin
Address
Bessemerstr. 16-22
12103
Berlin
,
Berlin
,
Germany
Programs
This school also offers: