Trinity College Dublin - Business School
Home ›
Ireland ›
Trinity College Dublin - Business School
Trinity Business School is part of the prestigious Council of Business & Society global consortium and is internationally accredited by AMBA and EQUIS; the latter placing it amongst the top 1% of business schools in the world
Trinity College Dublin is Ireland's leading Universiity, ranked 108th in the world and 1st in Ireland (QS World University rankings 2020).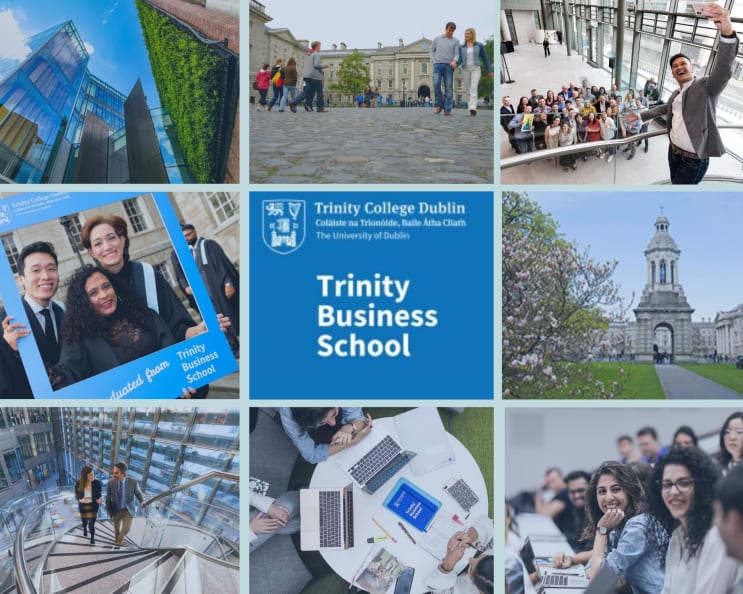 Trinity College Dublin - University Life
Over 120 societies. From arts, culture, politics and debating to gaming, advocacy and music, you're sure to find your niche.
50 sports clubs. Choose from 50 sports clubs in a range of disciplines. Get fit, stay active, and meet people outside the classroom!
State-of-the-art sports centre. All registered Trinity College students can utilise the facilities at the Sports Centre including the 25m pool, climbing wall, fitness centre and classes.
The Trinity Ball, Europe's largest private party and a highlight of every spring term on campus.
Trinity College is home to the largest library in Ireland.
Our Programmes
Msc in Digital Marketing Strategy
Msc in Marketing
Msc in Entrepreneurship
Msc in Human Resource Management
Msc in Finance
Msc in Financial Risk Management
Msc in Management
Msc in International Management
Msc in Operations And Supply Chain Management
Postgraduate Diploma in Accounting
Career Support Team
Specialised in personal development, the team can help you to identify suitable career paths and provide tailored advice on how best to achieve your career goals through workshops, one-to-one coaching and psychometric assessments. They deliver a Career Development Module (non-credit bearing) with defined learning outcomes, arrange company and recruitment consultancy presentations, jobs fairs, recruiter in residence days and networking events
A real-business educational environment. The University is located right in the centre of the vibrant and friendly Dublin City. We are adjacent to the Irish Financial Services Centre (IFSC), Europe's digital industries capital, government and public sector management headquarters, city centre retail, professional services industries and Ireland's cultural industry sectors.
Locations
Dublin
Trinity Business School
Address
Trinity College Dublin, the University of Dublin
College Green
Dublin 2, Ireland
Dublin
,
County Dublin
,
Ireland