Peter the Great St. Petersburg Polytechnic University
Home ›
Russia ›
Peter the Great St. Petersburg Polytechnic University
Peter the Great St. Petersburg Polytechnic University was founded in 1899. Recently SPbPU became "National Research University", also known in Russia and abroad as Polytechnic Institute — a recognized Russian and worldwide leader in the field of higher engineering and economic education. Currently, it also remains at the leading positions in the rating of Russian engineering higher educational institutions. The Polytechnic University is based on a compact park-like campus in the residential north-west district of St. Petersburg. A greater part of the campus is a large park with a large number of university buildings scattered around it.
At the present time in SPbPU, there are 33000+ students and postgraduates, more than 7500 of them are foreign citizens from 98 countries who annually study at different SPbPU programs. The University is carrying out education in the following areas: engineering, physics, economics, humanities and information technologies.
The University trains specialists in 52 Bachelor Degree programs and 154 Master Degree programs, 92 Ph.D. programs and 90 Doctorate programs. In addition, in SPbPU there are a number of non-degree and international educational programs.
In 2007 SPbPU won a contest "Innovation University" financed in the framework of the national project "Education". In 2010 SPbPU gained the status "National Research University". Nowadays SPbPU develops as a new type research university, which integrates multidisciplinary R&D activities and advanced technologies for rising national economic competitiveness.
The University is proud of its longstanding traditions of international cooperation with many foreign educational institutions, research organizations and industrial companies in the field of education and science. Among the University partners, there are more than 300 universities from 68 countries, 131 scientific and research institutions and 172 companies from over 55 countries.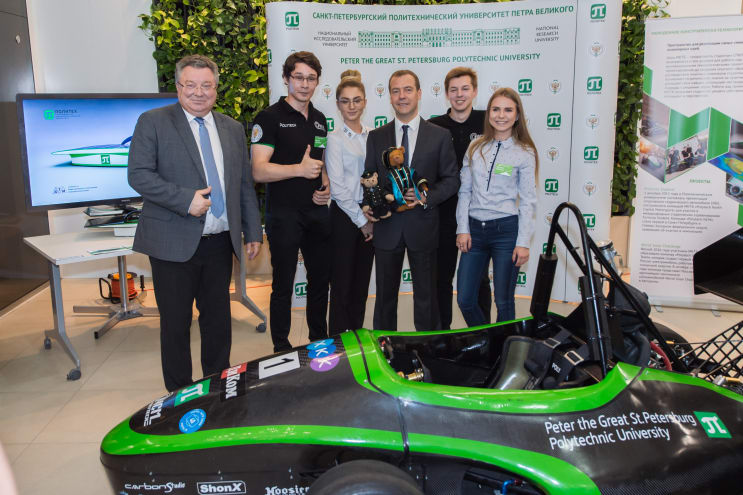 In the University there are more than 40 Research and education centers that are carrying out joint research together with the companies Motorola, Microsoft, AT&T, Siemens, LG "Electronics", Apple Macintosh and others.
Today the Polytechnical University structure includes:
11 Institutes and Graduate school of biotechnology and food science
More than 100 departments and 120 R&E laboratories
Research centers, innovation laboratories, science park
Fundamental library — one of the largest scientific and technical libraries in Russia
International Student campus
Medical center
Modern sports center
University Accommodation (23 dormitories)
Concert halls etc.
Peter the Great St. Petersburg Polytechnic University presents its International Master Degree Programmes. These programmes are fully delivered in English by world-class professors from SPbPU and other Russian and foreign universities. They provide unique opportunities for international mobility in leading European universities. We organize practical training and internships for our students in well-known companies.
Key Advantages
Wide-range of subject areas
Combination of fundamental preparation and practical studies
Opportunities for international mobility – semester abroad at academic partners of SPbPU
Double degree options
World-class professors from SPbPU and leading European universities
Future successful career in top executive positions with companies operating in the global market
Scholarships for best international and Russian students
Comfortable student dormitories and eventful student life
Studying at the one of the most beautiful cities in the world
The Polytechnic University is a large community - it provides a wide range of social, cultural, recreational and up-to-date on-campus facilities for its students and staff. These are available for all those who would wish to indulge in a corporate life of the University in accordance with their personal concerns. Be it sports, music, dancing, acting, or whatever - you can find facilities and people to share your interests. Those who take part in corporate life derive great benefit from it while in the University and in later years: friendships made on this friendly campus can last a lifetime.
International Master Degree Programmes have three main focuses:
Engineering
Natural Sciences
Economics & Management
Please have a look at the programs offered.
Locations
Saint Petersburg
Address
Peter the Great St. Petersburg Polytechnic University
Polytechnicheskaya, 29
195251
Saint Petersburg
,
Sankt-Peterburg
,
Russia