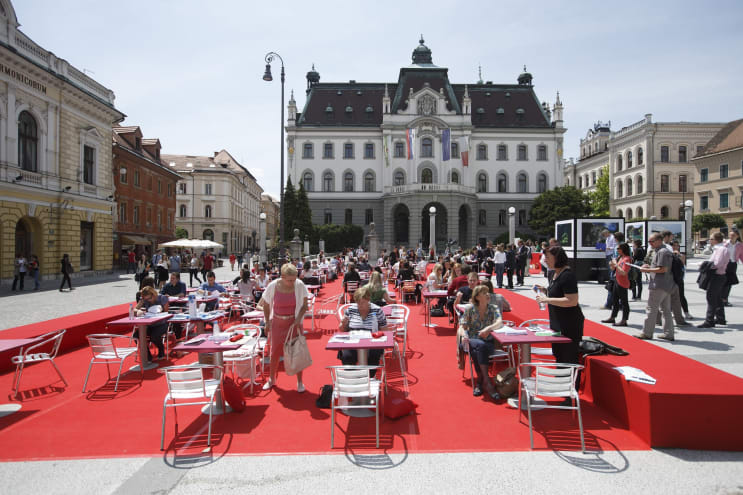 Website: www.uni-lj.si/study
Email: study.info@uni-lj.si
Every new academic year offers new opportunities for academic and personal growth, and we are looking forward to encouraging you along this exciting journey of learning and discovery. We are happy to welcome you to this information package of our degree programmes and hope you find something of your interest.
The University of Ljubljana, founded in 1919, with 23 faculties and 3 art academies, is the oldest and largest higher education, scientific research and art institution in Slovenia. The University fosters basic, applied and developmental research. Today, the University of Ljubljana ranks among the top 3% of universities in the world.
Most of our members (academies and faculties) are located in Ljubljana, the capital of Slovenia, except our Faculty of Maritime Studies and Transport which is located in Portorož by the Adriatic Sea.
Ljubljana is a very pleasant and youthful city to live in. We have many museums, galleries, theatres, cinemas, institutes, libraries and one of the oldest philharmonic orchestras in the world. In the city centre, you will find lots of pubs, restaurants, clubs, and shops. There are plenty of green spaces too. Kongresni trg (square) is one of the central squares in Ljubljana where is also the seat of the Rectorate of the University of Ljubljana.
Our degree programmes range across all fields of study: Art, Fine Arts, Natural Science, Technology and Engineering, Social Sciences, Humanities, Medicine, Health Sciences, Sport, which are designed in line with the Bologna Process guidelines. Within the University of Ljubljana and in cooperation with foreign universities, we provide joint, interdisciplinary and multidisciplinary study programmes in all three cycles. In addition to lectures, tutorials, and seminars, we place great emphasis on practical training, the inclusion of students in project work, international exchanges, career guidance, extracurricular and other activities.
As our student you will have a great opportunity to study in diverse international community with many visiting professors and international students from all over the world. Each year around 40.000 students upgrade and develop their knowledge and skills at our institution, among them we have 8% international students. University of Ljubljana programmes are completed by more than half of all bachelor graduates in Slovenia, more than two thirds of master's and specialisation degree holders and more than 80 percent of doctors of science.
Our commitment to academic excellence and diversity of activities is confirmed by the international university rankings and many other national and international recognitions of study and research achievements of our academic and research community.

A particular concern of the University of Ljubljana is the transfer of knowledge to the industry, for the safety of the environment, for people's health, the quality of life and wealthy economy, which is why we cooperate closely with many Slovenian and foreign companies. Our partners are prominent multinational corporations and top Slovenian organizations.
At www.uni-lj.si/study you can find informational guides which have been specially designed for international students who intend to study at the University of Ljubljana, information about degree programmes and additional useful information that will ease your start here. This set of guides is designed specifically to help you choose well and make the right decision in selecting your degree programme at the University. Our tutorials will give you insight about study possibilites at the University of Ljubljana and living in Slovenia. You can also search for programmes by fields and categories.
We would like to invite you to join us at the interactive online info days, which will be organized in January and February 2021: www.uni-lj.si/study/news/information-days. At the information days you will have the opportunity to get useful first-hand information about studying at the University of Ljubljana and about living in Slovenia.
All relevant information about the programmes, enrolment requirements, language, duration, and number of available places for 2021/2022 academic year will be published at our website www.uni-lj.si/study in the Call for enrolment, expected in February. Please check www.uni-lj.si/study/news/deadlines and learn about application periods for the academic year 2021/2022.
You are also welcome to join us at the portal called POPR – Personal and Professional Development Portal, where you can make an appointment for online counselling on the application-admission procedure for bachelor and single-cycle master studies (Wednesdays from 1 p.m. to 2.30 p.m. next year). You can register here.
To learn more about educational systems and policies in Slovenia please watch short video series which were prepared by our Ministry of Education, Science and Sport.
Should you have any unanswered questions after reading these guides, please do not hesitate to contact the relevant office below:
Recognition of foreign secondary education: recognition@uni-lj.si
Recognition of foreign education for enrolment in master and doctoral studies and for transfer: please contact the authorised person at the relevant faculty/academy
Application and admission procedure: admission@uni-lj.si
Technical assistance for filling out the application for enrolment: ekc@gov.si
Year Plus: letoplus@uni-lj.si
Slovenian language courses: lektorat-slo@ff.uni-lj.si
Scholarships: info@sklad-skladi.si
Information about Visa: euraxess@cmepius.si
In November we will organize a special online presentations for candidates from different countries. The events will provide an opportunity to obtain useful first-hand information about studying and living in Slovenia. If you wish to attend online presentations, please register on this link. You will receive a link for the online presentation to your e-mail address. You are also welcome to joing us at the Virtual Career Fair where you will hae the opportunity to meet with the representatives of our faculties and academies. More information.
We are inviting you to start your academic path with us, boost your personal and professional career options and become a valuable member of our proud and creative academic community.
We are looking forward to welcoming you to our University.
Student Impressions
Students are the heart of our community and the motivation of our faculty and staff. We are encouraged to learn from each other and from the variety of possibilities, offered by study, social, cultural, recreational, sports and extracurricular activities in our diverse academic community.
The University of Ljubljana is an open institution. We look forward to having as many students from other countries as possible. For us, you are ambassadors of friendship in relations between your countries and Slovenia. Bonds created during the course of study are usually cherished throughout our lives. We are inviting you to start you academic path with us, boost you personal and professional career options and become a valuable member of our proud and creative academic community.
Here are some of our graduates and students who explain what it's like to learn with us, and why they chose the University of Ljubljana.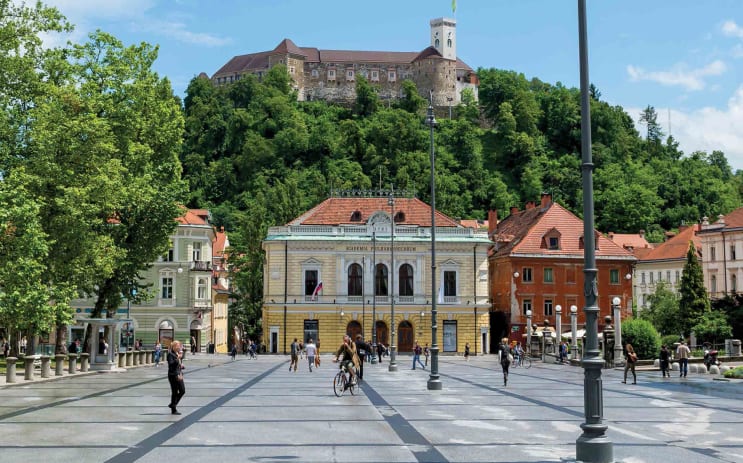 Locations
Ljubljana
Address
University of Ljubljana
Kongresni trg 12
1000
Ljubljana
,
Ljubljana
,
Slovenia
Ljubljana
Address
University of Ljubljana Faculty of Architecture
Zoisova cesta 12
1000
Ljubljana
,
Ljubljana
,
Slovenia
Ljubljana
Address
University of Ljubljana Faculty of Electrical Engineering
Tržaška cesta 25
1000
Ljubljana
,
Ljubljana
,
Slovenia
Ljubljana
Address
University of Ljubljana Faculty of Public Administration
Gosarjeva ulica 5
1000
Ljubljana
,
Ljubljana
,
Slovenia