Read more on the institution's website
EAE is an International Higher Management Education Institution. With 50 years' experience in a Business School, EAE has been involved in the training of over 65,000 directors and professionals. Each year, participants from over 72 countries develop their skills at EAE, equipping them to perform roles of responsibility within the business and institutional world.
EAE's activity takes place on three Campuses: 2 in Barcelona, running programs for joint qualifications with the Universitat Politècnica de Catalunya and the Business Administration degree course; and the Madrid Campus, where higher education programs are run in collaboration with the Universidad Camilo José Cela. EAE's integration within the Training Division of Grupo Planeta has given a further boost to the institution's higher business education project. The links to and support of Grupo Planeta, a world leader in content generation and publication in the field of management, has reinforced EAE's solid experience and gives us a privileged position among Spanish and International Business Schools.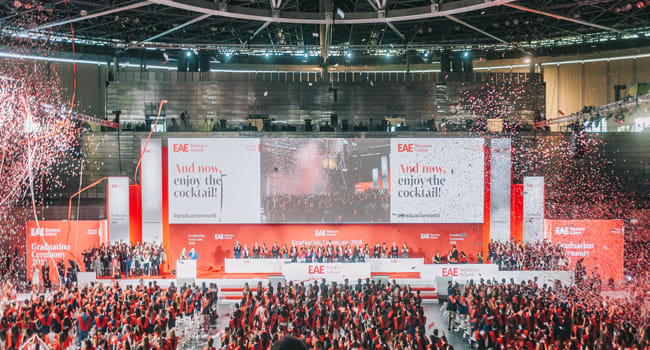 EAE Business School is currently ranked as the second-best Business School in Spain in the 2014 MERCO Ranking. This has been achieved thanks to a firm belief in our project: striving for academic excellence to become a leading center of management quality. With our sights set firmly in this direction, we are fully committed to the business world and the development of future leaders. Our executives must, therefore, possess a level of quality and skills in the field of business management that grant them the authority required to govern an institution effectively.
This objective has driven us to be increasingly demanding of ourselves. As a result, the high standards of quality applied by EAE have enabled the institution to become Spain's first Business School to obtain ISO 9001 International Quality Certification, which endorses and guarantees the high academic level of our programs. We have also been granted AEEDE accreditation, an endorsement that reflects the recognition and academic calibre of the best Spanish Business Schools. EAE also forms part of prestigious national and international bodies such as AACSB International (The Association to Advance Collegiate Schools of Business), EFMD (European Foundation for Management Development), CLADEA (Consejo Latinoamericano de Escuelas de Administración), ForQ (Association for quality in lifelong learning), EBEN (European Business Ethics Network) and the European MBA Network.
In short, at EAE Business School we are firmly committed to training the business leaders of the future with a clearly human approach and international vision.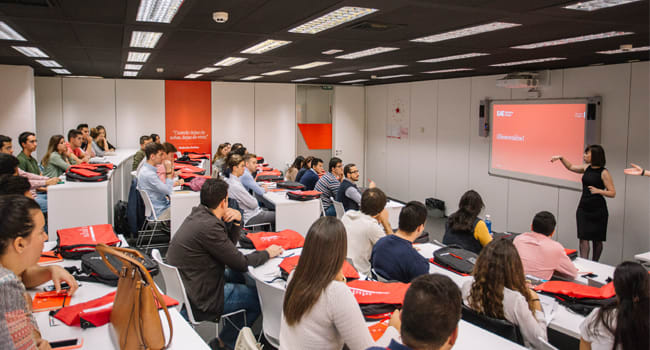 Locations
Madrid
Address
EAE Business School
C/ Menéndez Pidal 43
28036
Madrid
,
Community of Madrid
,
Spain
Barcelona
Address
Campus Barcelona
C/ Aragó, 55
C/ Tarragona, 110
08015
Barcelona
,
Catalonia
,
Spain