Schaffhausen Institute of Technology
Home ›
Schaffhausen Institute of Technology
Read more on the institution's website
Drive transformative advances in science, research, and technology
Why another university
Diseases and Ageing
Environment and Global warming
Social Justice and Poverty
Wars and Violence
Space and Universe challenges
There are many global problems in our world, but computers can help predict them; that's why modern physics and many other modern sciences lead us into the computer world.
Unfortunately, the potential of modern digital computers is limited—real-world problems need better computers, we need new computers that use new physical principles. But the creation of new computers requires breakthroughs in many areas: for new computers we need advanced materials, build a lot of new hardware, create new software to design those computers, develop new operating systems to run them, and also we need to build new algorithms and applications. These are big challenges, and they should be solved because if you solve them, you can solve many human problems.
Because of that, we founded a new university—Schaffhausen Institute of Technology, which focuses on science, technology and education—a huge (about $10T) market for computers, physics and business making unconstrained revenue stream through real estate, education, science transformation services, spin-offs and startups, venture funding, learning, and a university management system.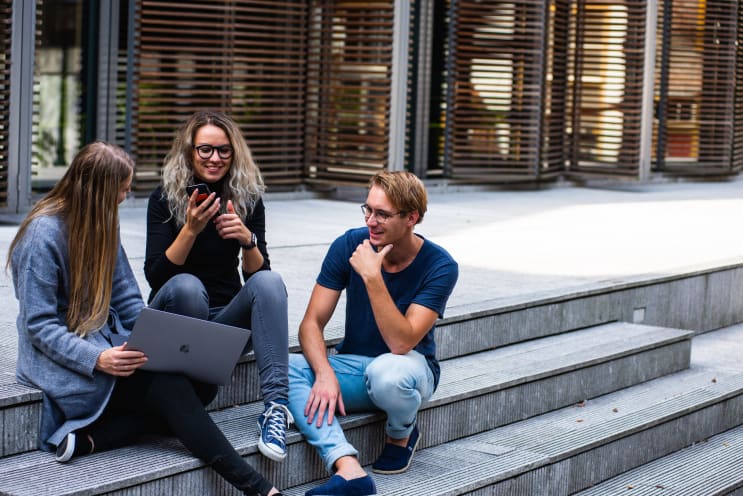 Schaffhausen Institute of Technology by 2030 year
SIT University
Top 50 under 50
Global Top 100 in CS, Physics, Business
2,500+ degree students on the main campus
25,000+ blended degree
off-campus students
250,000+ online non-degree students
SIT Research Center
25+chairs in: Cybersecurity and Information Integrity, AI/ML, Software Engineering, Robotics & Autonomous Machines, Quantum Technologies, Advanced Materials, Digital Health, Digital Sports, New Generation Business Management, AI in Arts & Computer Design, Digital Law
SIT Tech Park
250+ SIT's startups and R&D centers of
100+ industry partners—within walking distance from University
SIT Facts
$100M+ investment over 8 years
$500M+ annual revenue in 15 years
2.5B+ market cap in 15 years (40%+ IRR)
5+ campuses around the globe
500,000+ m2 of real estate worldwide
Our 5 campuses will concentrate their efforts on these specific areas, and we plan to reach a scale of about 2,000 students on the main campus, about 25,000 blended degree off-campus students, and a very large number of online non-degree students. We bet on these three areas because we believe that the future lies specifically in cybersecurity and information integrity, artificial intelligence and machine learning, software engineering, robotics and autonomous machines, quantum technologies, and advanced materials, as well as in a number of areas of business sciences.
How SIT will achieve success
We build the university in cooperation with Carnegie Mellon, which is number three in the top 5 in any year computer science school in the world, and the National University of Singapore (NUS). We build it with our boards: the chairman on our strategic advisory board is Nobel Prize winner in Physics Konstantin Novoselov, the members are Nicolas Gisin—one of the most famous entrepreneurs in quantum technology and who is also one of the most cited living physicists out of Switzerland in the university of Geneva, Artur Ekert in NUS, Mikhail Lukin in Harvard, Mark Kamlet who was a provost in Carnegie Mellon.
Our vision and values
SIT's mission is to drive transformative advances in science, research, and technology. SIT focuses on the Strategic Research Domains of quantum technology, advanced materials, AI, deep learning, and cybersecurity.
These involve both basic and applied research in software, hardware, systems, networks, web, databases, IoT, and information security, as well as human, legal, and privacy aspects. In all of these areas, SIT targets fundamental science and develops it through to applications and company creation.
SIT is interdisciplinary by design, and merges traditional and progressive teaching approaches with a strong virtual and augmented element.
Why Schaffhausen
SIT's home in Schaffhausen, Switzerland, is only 45 km from Zürich, with access to the largest industry and technology base in Europe, encompassing Switzerland, Southern Germany, and Northern Italy.
The economy of Schaffhausen is characterized by an exciting mix of international business service providers and innovative businesses with highly-developed tech capabilities. The Canton's government has in the last 20 years consistently pursued a targeted strategy that has attracted around 600 businesses to set up operations in Schaffhausen. These now form part of the local business landscape alongside highly innovative businesses specializing in advanced manufacturing and R&D.
Locations
Schaffhausen
Address
Schaffhausen Institute of Technology,
Vordergasse 59
8200
Schaffhausen
,
Schaffhausen
,
Switzerland