USI Università della Svizzera italiana
Home ›
USI Università della Svizzera italiana
USI is a young and agile university that offers its students a quality education and an enhancing study experience. International faculty teach students with an interdisciplinary, engaging and interactive approach, leaving room to practical application.
The quality of the study curricula is complemented by USI small size, by its cosmopolitan environment and its informal and dynamic culture.
These elements make USI a hub of opportunity open to the world, where students can engage in direct dialogue with their professors and define their educational path, discover unexpected horizons, and embrace international careers.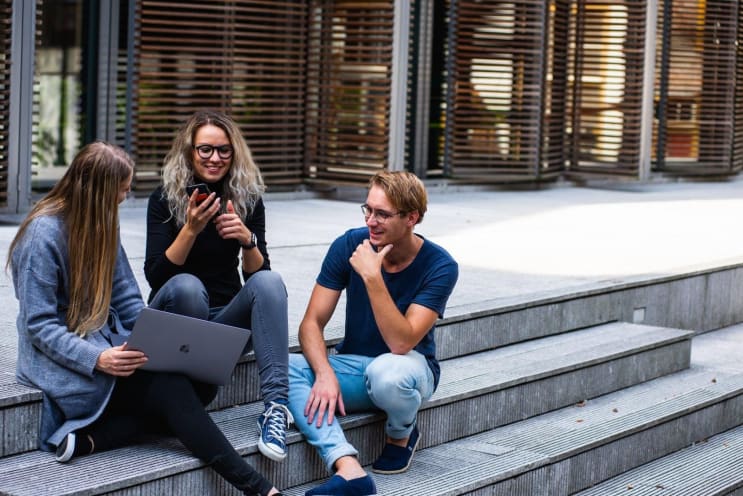 Buro Millennial / Pexels
Why USI
Seven reasons for choosing USI:
Quality of the Swiss university system
International faculty
Leading interdisciplinary education
Teacher/student ratio 1 to 8
Strong ties with the business world
Flexible structure, open to the exchange of ideas
International, dynamic and welcoming environment
Mission
Based on the Law that regulates the Università della Svizzera Italiana, USI mission consists of:
Providing quality education.
Conducting internationally relevant scientific research.
Contributing to the development of the region by enabling the transfer of knowledge, innovation, entrepreneurship and cultural and scientific debate in their areas of competence.
In pursuit of its mission, USI draws inspiration from three main values: quality, openness, and responsibility.
Dies Academicus
The Dies academicus is the annual celebration of the University, a significant moment to share and learn about USI and its developments.
The Dies includes an official address by the Rector and speeches by guest speakers, both from within and beyond USI. It is also an opportunity to welcome at USI the Rectors from other universities, to award the Honorary Doctorate, to appoint Honorary Members of the University, and to assign the Credit Suisse Award for Best Teaching, which rewards the best teacher of one of the USI Faculties (in turns).
Next Dies academicus (24th): May 9, 2020.
Partnerships
USI works with a number of international, national and regional entities in its education, research and knowledge dissemination activities.
Research projects, study programs, doctoral programs, and mobility programs, in cooperation with universities and research centers in Switzerland and elsewhere, are coupled with applied studies, field projects carried out by students, other educational initiatives (such as internships) and events with institutions and businesses in Switzerland and abroad.
In the academic environment, the USI network is based on:
a series of framework agreements (particularly on education and mobility);
coordination of, or participation in, research platforms, such as PASC, the National Centres of Competence in Research (NCCR) and the Swiss Competence Centers for Energy Research;
and above all the scientific networks of individual researchers, who communicate and work together with colleagues from all over the world on projects and publications, and as part of associations and scientific symposia.
Locations
Lugano
Università della Svizzera italiana - Campus Lugano
Address
Università della Svizzera italiana

via Buffi 13
CH-6900
Lugano
,
Ticino
,
Switzerland
Mendrisio
Academy of Architecture – Mendrisio Campus
Address
Università della Svizzera italiana
Academy of Architecture, Largo Bernasconi 2
CH-6850
Mendrisio
,
Ticino
,
Switzerland