National Taiwan University College of Public Health
Home ›
Taiwan ›
National Taiwan University College of Public Health
NTU is the #1 University in Taiwan
National Taiwan University (NTU) is the number 1 university in Taiwan, the number 20 university in Asia, and the number 69 in the world according to the 2020 QS University Rankings.
NTU is at the top of the nation in terms of both breadth of academic fields and volume of programs, with more than 200-degree programs ranging from the natural sciences to the humanities and social sciences. Students who study at NTU become a part of the nation's richest center of learning and are given the opportunity to receive a diverse and superlative education. NTU's vision embraces expert knowledge and strong techniques, guided by independent thought and a pioneering spirit of enterprise.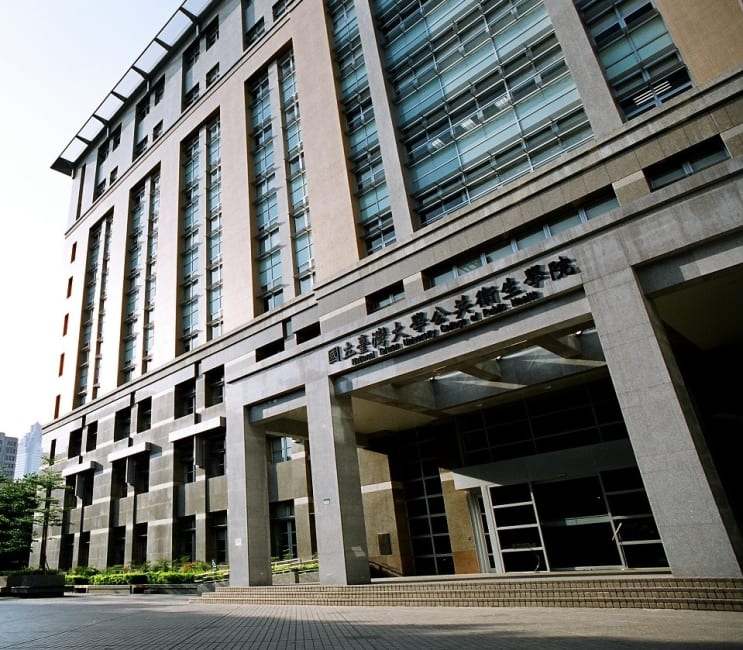 © National Taiwan University College of Public Health
Why Taiwan?
The CPH campus is located in downtown Taipei. In addition, Taiwan is geographically well located allowing easy reach to many unique places within Asia. The CPH has well-established fieldwork programs within Asia and Africa, allowing insight into some unique areas of research.
Taipei is considered one of the safest cities in the world (Numbeo.com 2017: Taipei third safest city in the world) Famed for its night markets, low cost of living, eco-tourism, and access to over 150 hot springs Taiwan Island offers a sub-tropical north and tropical south. The high-speed rail and an abundance of top-end department stores will give you access to all your needs.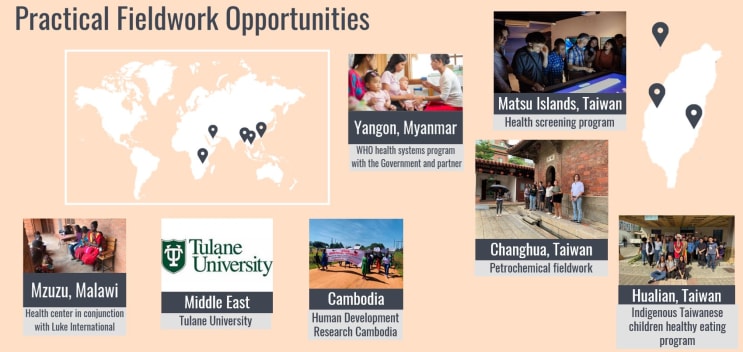 © National Taiwan University College of Public Health
Program Description
The College of Public Health (CPH) at National Taiwan University has recently received its CEPH accreditation, opening new opportunities for students to obtain an MS or Ph.D. in Global Health. NTU is uniquely located in the heart of Asia with well-established practicum opportunities across Asia and Africa.
CPH is committed to providing an interesting and thought-provoking academic experience, preparing students with the necessary skills and knowledge applicable to critical health issues worldwide. The program will equip you with the methodology and skills to kick start your career in a global health context or help build upon your current skills. We aim to prepare students to become independent investigators in academic and non-academic research institutions and emphasizes contributions to theory and basic sciences.
Required Learning Objectives and Competencies
Explain public health history, philosophy, and values
Identify the core functions of public health and the 10 Essential Services
Explain the role of quantitative and qualitative methods and sciences in describing and assessing a population's health
List major cases and trends of morbidity and mortality in the community relevant to the program
Discuss the science of primary, secondary, and tertiary prevention in population health, including health promotion, screening, etc.
Explain the critical importance of evidence in advancing
Explain the effects of environmental factors on a population's health
Explain biological and genetic factors that affect a population's health
Explain behavioral and psychological factors that affect a population's health
Explain the social, political, and economic determinants of health and how they contribute to population health and health inequities
Explain how globalization affects global burdens of disease
Explain an ecological perspective on the connections among human health, animal health, and ecosystem health (e.g. WHO, One Health approach)
Analyze the roles, relationships, and resources of the entities influencing global health
Apply ethical approaches in global health research and practice
Apply monitoring and evaluation techniques to global health programs, policies, and outcomes
Propose sustainable and evidence-based multi-sectoral interventions, considering the social determinants of health specific to the local area
Design sustainable workforce development strategies for resource-limited settings
Display critical self-reflection, cultural humility, and ongoing learning in global health
Locations
Taipei
Address
Room 703, 7th Floor, No. 17 Xuzhou Rd. Zhongzheng District
100025
Taipei
,
Taiwan
Programs
This school also offers: