Arcadia – College of Health Sciences
Home ›
USA ›
Arcadia – College of Health Sciences
Read more on the institution's website
Founded in 1853, Arcadia University is Philadelphia's global university and a pioneer in international education. It is a top-ranked private university offering bachelor's, master and doctoral degrees. In addition to six colleges and schools in the United States, we have 10 centers and offices around the world. Every year, our faculty and staff enrich the lives of our 3,700 current students, 3,000 study abroad participants, and more than 26,000 alumni.
Rankings and Excellence
Arcadia University receives critical acclaim from renowned sources in higher education.
Top Regional Universities in the North
Arcadia received high marks in the U.S. News & World Report's 2019 edition of Best Colleges.
Best Northeastern Colleges
Arcadia is one of the outstanding colleges and universities in the Northeast recommended by The Princeton Review.
Nationally Ranked in Study Abroad
For the percentage of students participating in study abroad in recent years.
Grey Towers Castle
A National Historic Landmark, Grey Towers Castle is often cited by alumni as one of the most vivid memories from their time at Arcadia.
Completed in 1898, the building was the architectural centerpiece of an estate owned by William Welsh Harrison. In 1929, Arcadia University (then located in Jenkintown) purchased Grey Towers from Harrison's widow and son. Classes were held in Jenkintown and Glenside until 1962 when the University transferred completely to the Grey Towers property.
The building houses administrative offices of the President, provost, and Enrollment Management. Its gorgeous first floor rooms are used for campus meetings and events. First-year students reside on the upper floor.
A Distinctively Global, Integrative, Personal Learning Experience
What are the core values that make Arcadia University distinctive—the values that Arcadia ensures each and every student experiences?
The Arcadia Promise affirms that students will have a distinctively global, integrative, and personal learning experience that prepares them to contribute and prosper in a diverse and dynamic world.
Global: The Classroom and Beyond
A Global Perspective
Arcadia University believes in building a community of learners committed to the high-impact learning that occurs with global experience as part of a student's academic career. Arcadia's vision is that students—including many who are the first generation in their families to attend college—should have firsthand knowledge of other countries and their cultures by offering programs like:
The preview was established in 1994 to introduce students to study abroad by offering global experiences in one of 17 countries.
The First-Year Study Abroad Experience (FYSAE) began in 2003 and has expanded to two semesters.
Second-Year Study Abroad Experience (SYSAE) gives more students the opportunity to study abroad.
Faculty in many disciplines have developed Major Abroad Programs (MAPs), which require a year of study abroad.
The College of Global Studies is internationally recognized for providing undergraduates access to over 130 programs worldwide.
Arcadia's commitment is to ensure our students have the opportunity to have a global experience. We do this by subsidizing programs, providing a robust scholarship and grant pool, and other financial aid support to attend one of Arcadia's centers or programs around the world.
This leadership in pioneering programming is why the Institute of International Education (IIE) ranks Arcadia University #1 for the percentage of undergraduate students participating in a study abroad experience of master's level schools. Arcadia has been ranked number one for the past nine years.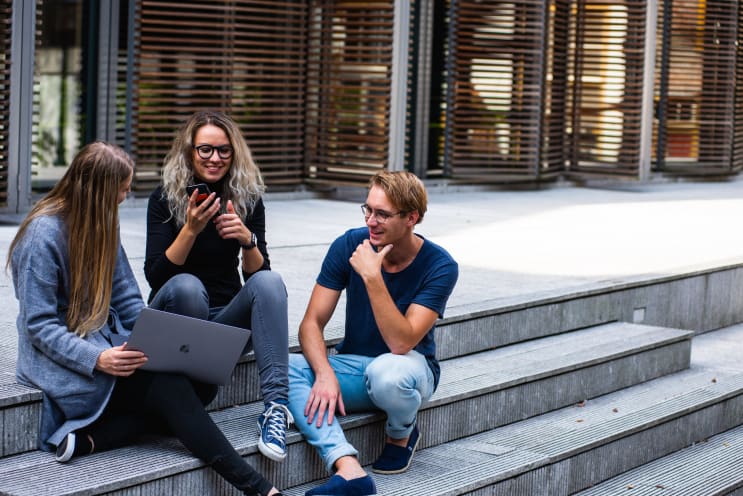 Integrative: Apply What You Learn
Plan to Take On the World
Every Arcadia student gets numerous opportunities to integrate classroom learning with real-world issues. Connecting liberal arts learning and theory with professional skills and abilities prepares Arcadia graduates to contribute and prosper in a diverse and dynamic world.
Artists produce paintings, sculptures, and designs to exhibit in the Gallery. Communications students get internships at local papers and in foreign countries. Business majors compete with simulated corporations. Psychology majors learn about evidence-based research. Education students practice new techniques while student teaching.
Personal: World Class Faculty Attention
Find Your Place at Arcadia
Generation after generation of Arcadia alumni tell the same story—the personal attention they received from a professor or staff member that inspired them, helped them, guided them. It's the hallmark of an Arcadia education. Faculty and staff get to know students and work with them to achieve their educational goals. Students benefit from strong mentorships that foster advanced learning and development. Involvement in campus life broadens each student's circle of experiences.
Dozens of clubs, an array of cultural and arts events, a multicultural menu of social, cultural, and religious activities, residence hall activities, and intercollegiate and intramural sports provide opportunities for involvement and leadership.
Mission, Vision, and Lived Values
From our founding as Beaver College in 1853 to the present day, Arcadia University continues a remarkable journey as a leading institution in study abroad amid a rapidly changing competitive environment of higher education.
Our Mission
Arcadia University provides a distinctively global, integrative, and personal learning experience for intellectually curious undergraduate and graduate students in preparation for a life of scholarship, service, and professional contribution.
Our Vision, Our Dream, Our Passion
Arcadia University's pioneering, global, integrated, liberal arts, and professional learning experience cultivates leaders who are intellectually fearless and uniquely prepared for life and work. Our highly regarded, values-based learning community reflects the world in which we want to live.
Our Lived Values​
Adaptability: We prepare community members with the nimbleness both to address the multifaceted challenges of civic life and to pursue new strategies in a dynamic world.
Excellence: We challenge ourselves to perform at and provide high standards in education, experience, and opportunity. Academic excellence is evidenced in the rigor and vigor of our programs and also in the qualities of our alumni.
Fearlessness: We facilitate a boundless learning environment across disciplines that integrate diverse perspectives into new knowledge and novel solutions to complex problems.
Integrity: We are honest and ethical in our actions, individually and collectively as an institution. Our integrative experiences, grounded in the liberal arts and sciences, cultivate intellectual and social responsibility.
Intellectual Freedom: We encourage freedom of thought and expression irrespective of ideological perspectives throughout our community of learners.
Justice: We bring our individual and collective resources to bear to seek positive transformation in our community and the world. We are always on guard against injustice and its causes.
Respect: Embracing our diversity creates a rich and welcoming atmosphere where the difference in culture, perspective, and belief enriches academic discourse and campus life and creates a sense of belonging for all community members.
Responsibility: We are committed stewards of Arcadia, and we will ensure that decisions are made in accordance with institutional mission, goals, and guidelines.
Locations
Glenside
Address
450 S. Easton Road
PA 19038
Glenside
,
Pennsylvania
,
USA
Programs
This school also offers: