University of San Francisco - School of Management
Home ›
USA ›
University of San Francisco - School of Management
Be a leader. Build productive and compassionate organizations. Be a force for positive change in the world. The University of San Francisco's School of Management is at the epicenter of global innovation and can help you develop the skills to excel in today's dynamic business, government and nonprofit environments. Our internationally recognized faculty is committed to teaching you what you need to succeed, including the hallmarks of Jesuit education — social justice and global citizenship.
Why the USF School of Management?
When you join the USF School of Management you join a university committed to developing compassionate and productive leaders. Our mission is to challenge you to reimagine business and management to create a more humane and just world. We demand academic excellence in the service of humankind. We broaden your understanding of today's global marketplace. We are located in the heart of San Francisco, one of the most intense business ecosystems in the world, which allows us to provide students with unparalleled access to high tech, biotech, finance, venture capital, and entrepreneurial leaders. In addition to the unparalleled real-world application throughout your education at the School of Management, our student-to-faculty ratio is 15:1 for a highly-engaged and individualized learning experience. We bring together students from across the globe to learn both the academic fundamentals of contemporary entrepreneurship and innovation as well as hard-earned business experience and insights from entrepreneurs and business professionals. Our alumni represent 117 industries in 50 states, 9 US territories, and 97 countries around the world. Discover exceptional graduate academic programs, faculty of the highest caliber, and a student and alumni community that is actively changing the world from here. We are an AACSB-accredited institution, the highest standard of achievement held only by 5% of business schools worldwide.
Life at the USF School of Management
Life at USF is more than sitting in a classroom. Students at the School of Management enjoy rich educational experiences that prepare them for today's dynamic marketplace, from real-world consulting projects and global immersion programs to renowned speakers and interactions with a student and alumni network that is changing the world.
School of Management Faculty
USF School of Management's faculty are committed to outstanding teaching and are driven by a dual emphasis on academic rigor and social justice. Our educators, practitioners, and scholars provide students with a wealth of international experience in management problems and practices. Their research is sparked by intellectual curiosity and enriched by contributions from academics, and government, nonprofit and business leaders from around the world.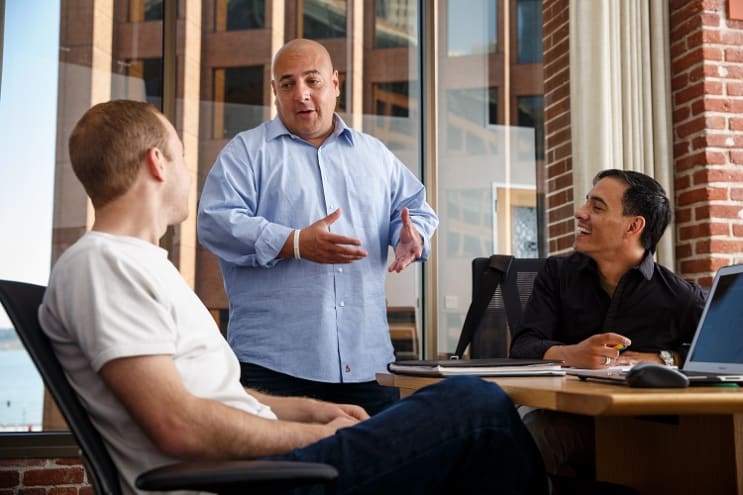 The faculty is dedicated to innovative research and best practices, creating a learning environment characterized by high-quality scholarship and mindful attention to the societal impact of their work. They serve our community, our city, and our world through editorial boards, pro bono consulting, boards of directors, and through service-learning projects embedded in their curricula.
If you wish to apply directly for one of the programs offered at the School of Management at the University of San Francisco, you may wish to proceed here.
Locations
San Francisco
USF School of Management Downtown Campus
Address
University of San Francisco
101 Howard Street
San Francisco, CA
94105
San Francisco
,
California
,
USA
Barcelona
Address
Barcelona
,
Catalonia
,
Spain
San Jose
Address
San Jose
,
California
,
USA
Taipei
Address
Fu Jen Catholic University
Taipei
,
Taiwan